Two Old Women, a legend from Alaska, reminds us to persevere and to seek the good of those around us.
*Two Old Women: An Alaska Legend of Betrayal, Courage and Survival by Velma Wallis. Harper Perennial, 2013 (reprint).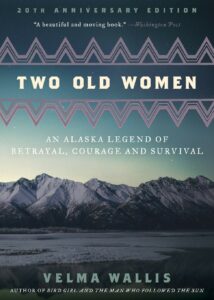 Reading Level: Teens, ages 12 and up
Recommended for: Ages 12 and up
Ch'idzigyaak sat quietly as if trying to make up her confused mind. A small feeling of hope sparked in the blackness of her being as she listened to her friend's strong words. She felt the cold stinging her cheeks where her tears had fallen, and she listened to the silence that The People had left behind…. Finally, more in desperation than in determination she echoed her friend's words, 'Let us die trying.'"

~chapter 2 of Two Old Women
The People, the women's tribe, had made the hard decision to leave the two women behind during a desperate winter: The People could move faster, seek better hunting ground, without the women slowing them down. Besides, those two were known more for their complaints than for their contributions. The women recognized that the decision was technically in the best interest of The People, but what a hard turn of events! Ch'idzigyaak's daughter managed to leave behind a small bundle that helped the women through the first long, dark nights. Soon, the two old women faced a decision; they chose to "die trying." And so they began remembering skills long since forgotten: how to make snowshoes, how to snare small animals, how to build a fire, how to store food. They moved towards remembered campsites of old. The question remains: will they ever see The People again? Will they see Ch'idzigyaak's daughter and grandson again? Will they survive an Alaskan winter?
Based on an old Alaskan oral legend, this inspiring tale of two old women coming together and persevering against great odds is a quick, satisfying read. Instead of panicking, they instead practice prudence. Together, the women learn how to contribute to a team effort instead of complaining about aches and pains. They rediscover the satisfaction of a job well done. They even have opportunities to share their bounty with others along with their forgiveness. Highly recommended, this is a lovely story just right for a cold winter day. May it move us to care for the elderly in our midst, to prize the lives of others, and to seek reconciliation wherever possible. May it also spur us on to love and good deeds, even when we'd rather sit around complaining.
Overall Rating: 4.5
Worldview/moral value: 4.75
Artistic/literary value: 5
Read more about our ratings here. *indicates a starred review                
Related Reading at Redeemed Reader:
Review: The Star That Always Stays by Anna Rose Johnson, another story featuring Native American elements
Resource: Astrid the Unstoppable by Maria Parr (a completely different feel, and for younger readers, this story also takes place in the winter and ends with reconciliation)
Home for Christmas was provided by the publisher in return for a fair, unbiased review. We are participants in the Amazon LLC affiliate program; purchases you make through affiliate links like the one below may earn us a commission. Read more here.
Stay Up to Date!
Get the information you need to make wise choices about books for your children and teens.
Our weekly newsletter includes our latest reviews, related links from around the web, a featured book list, book trivia, and more. We never sell your information. You may unsubscribe at any time.
Support our writers and help keep Redeemed Reader ad-free by joining the Redeemed Reader Fellowship.