In verse and prose, Becoming Muhammad Ali traces the early life of Cassius Clay, "The greatest" heavyweight boxer ever.
Becoming Muhammad Ali by James Patterson and Kwame Alexander, Illustrated by David Anyabwile. Little, Brown (Jimmy Patterson) and HMH, 2020, 305 pages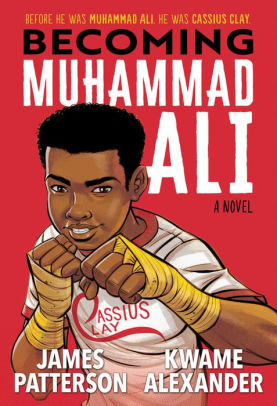 Reading Level: Middle Grades, ages 10-12
Recommended for: ages 10-14
Cassius clay was the greatest, and the prettiest, and the wittiest—if we limit the field to heavyweight boxing champs. Even outside that narrow field, though, he was special. Growing up in Louisville during the days of Jim Crow and segregation, he knew he was fast. As a teen, he knew he could punch. As a black youth, he knew he had to watch himself carefully in certain neighborhoods, lest he end up in a coffin like Emmett Till:
I was thirteen/ when I realized/ that maybe boxing could/ save us,/ take me away/ from all this.
But he also had dash and style, two parents at home, and lots of friends. One of them, Lucius, narrates the prose sections of this fictionalized memoir, while Cassius tells his own story in free verse. That's appropriate for an athlete who rhymed all the time, and even cut an album of verse and comedy before the epic battle with Sonny Liston that cinched his championship. This narrative doesn't get that far: just covers his early years in Louisville and the people who shaped his career. Those are Mama Bird, Daddy Cash, Granddaddy Herman, and the teachers and principals who made him stay in school.
He's not known as Cassius Clay today, but the title seems a bit misleading. He converted to the Nation of Islam and changed his name after his fight with Liston in 1964. There's no question he grew up with an acute sense of injustice that the Nation of Islam promised to assuage, but he made his name as Cassius Clay, an exuberant personality and as fine a showman as he was an athlete. The style and format of this novel captures some of that vigor (and readers who want to know more should check out some of the cuts from his album I Am the Greatest on YouTube.)
Overall Rating: 3.75 (out of 5)
Worldview/moral value: 3.5
Artistic/literary value: 4.5
Also at Redeemed Reader:
 We are participants in the Amazon LLC affiliate program; purchases you make through affiliate links like the one below may earn us a commission. Read more here.
Support our writers and help keep Redeemed Reader ad-free.