Courageous World Changers briefly covers the lives of 50 women throughout the world and history who lived for Christ.
Courageous World Changers: 50 True Stories of Daring Women of God by Shirley Rae Redmond, illustrated by Katya Longhi. Harvest House, 2020, 110 pages.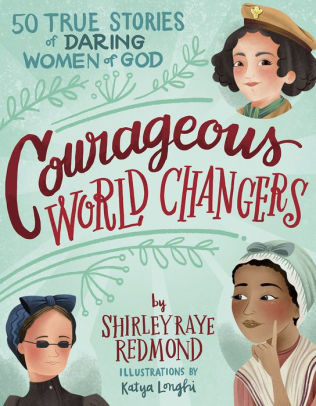 Reading Level: Middle Grades, ages 8-10
Recommended for: ages 8-up
You've heard of Elizabeth Elliot and Fanny J. Crosby. But what about Ni Kwei-Tseng Soon or Pandita Rambabai? Or did you know Rosa Parks was motivate to stay seated on that Montgomery bus by her Christian faith, or that Sabina Wurmbrand encouraged her husband to stand up to communism when he was tempted to waver?
To cover fifty historical (and a few contemporary) figures in 100 pages means the biographies will be short—too short, especially for a few figures who may be seen as somewhat problematic to Evangelicals. But the text avoids political controversy, like Dorothy Day's socialist leanings, and focuses on faith. Some of these women served in Christian ministry while others served Christ in other vocations. Though most are white, African Americans and Asians are well-represented too. All are worth knowing better, and the footnotes suggest further resources. Overall, an excellent reference book for the home or school library. Also available is Brave Heroes and Bold Defenders: 50 True Stories of Daring Men of God by the same team.
Overall Rating: 4.5 (out of 5)
Worldview/moral value: 5
Artistic/literary value: 4
Also at Redeemed Reader:
We gave a starred review to *Radiant, another collection of Christian biographies by Richard Hanulla.
And see our book list of 30+ Women in Church History!
We are participants in the Amazon LLC affiliate program; purchases you make through affiliate links like the one below may earn us a commission. Read more here.
Support our writers and help keep Redeemed Reader ad-free.