The Blackbird Girls takes readers to the shadow of Chernobyl and the world's worst nuclear disaster.
The Blackbird Girls by Anne Blankman. Viking, 2020, 334 pages.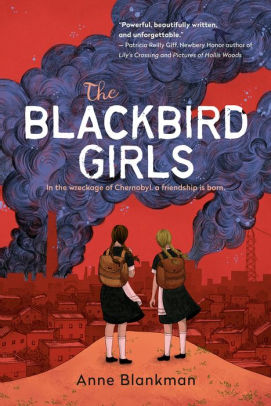 Reading Level: Middle Grades, ages 10-12
Recommended for: ages 10-15
The City of Pripyat, Ukraine, is one of the more prosperous in the Soviet Union because many of its citizens work at the nearby nuclear plant (known informally as Chernobyl). But the Saturday morning in April when Valentine Kaplan wakes up to a red sky in the south, she knows something is wrong. A closer look reveals what it is: the power station is on fire. And her father, who works the night shift, has not come home. Though the government is maddeningly slow with information, she and her mother learn that Papa is on his way to a hospital in Kiev. After two more days, word comes that the city is to be evacuated, but there's no further instruction. In the chaos, Valentina's mother becomes responsible for Oksana Savchenko, a schoolmate of her daughter's and (unbeknownst to Mama), Valentina's worst enemy. Oksana despises the girl because the Kaplans are Jews. It's a bias she learned from her father, along with other, harsher lessons. But now Oksana's father is dead at the power plant and her mother is a basket case. The only one who steps in to help is someone she was taught to see as inferior.
Because of a supposed shortage of train space, Valentina's mother is unable to accompany them on their evacuation. She can't think of any other place to send them but Leningrad (St. Petersburg), and her own mother, long estranged. What was supposed to be temporary soon semi-permanent, and the "Blackbirl Girls" (a reference to Uzbek folk beliefs) must learn to get along or live in misery.
Perspectives shift between Valentina and Oksana in 1986 and another girl their age living through the German invasion in 1941. This girl's identity will soon become clear to astute readers, but they'll keep reading because the story is compelling and powerful. Each girl has her own struggles with parents, circumstances, prejudices, or God. There is great evil abroad, whether in the land or the government or one's own home, but hope triumphs.
The author note explains that the novel is based on experiences of a childhood friend who survived the Chernobyl disaster and later immigrated to the US. Anne Blankman also shares her husband's struggle with cancer around the time this book was in production–a further testimony to courage and perseverance in the face of hardship.
Overall Rating: 4.25 (out of 5)
Worldview/moral value: 4.25
Artistic/literary value: 4
Considerations:
Oksaka is a victim of domestic violence at the hands of men. This is not sexual, but could be disturbing for more sensitive readers. She will later experience kindness and acceptance in an Uzbek Muslim family. Sadly, there don't appear to be any Christians in the story, or none practicing the love of Christ.
The Soviet government is seen as restrictive, overbearing, and more concerned about its reputation than the lives of its unfortunate subjects–realistically, in other words.
There's some question in the narrative about whether nuclear power is "safe." Obviously, at Chernobyl, it wasn't. But does that mean that nuclear energy shouldn't be pursued as a clean alternative to fossil fuels? It might be worth doing some research on the issue.
We are participants in the Amazon LLC affiliate program; purchases you make through affiliate links like the one below may earn us a commission.Read more here.
Support our writers and help keep Redeemed Reader ad-free.