The now-classic Asterix comic series receives an American gloss in a new edition.
Astrix Omnibus #1, 2, and 3 by René Goscinny and Albert Uderzo. Papercutz (American edition), 2020, 152 pages.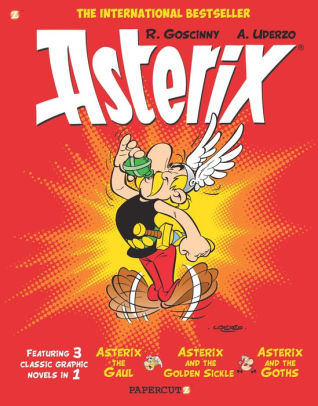 Reading Level: Middle Grades, ages 10-12
Recommended for: ages 8-up
Back in 1959, a feisty, pint-sized character with superhuman strength hit the European comics market. This was before comic books became "graphic novels"; otherwise the book-length adventures of a ca. 50 B.C. Gaul would qualify as a graphic novel, though a distinctly unserious one. The series was launched as a European answer to an art form developed around American superheroes and villains. But Asterix was an unusual superhero: with his beefy sidekick Obelix (a menhir delivery man—look it up), he fought the ambitions of Julius Caesar, who had already conquered most of Gaul. The opening panel of Asterix the Gaul pictures the legendary scene of chieftain Vercingetorix throwing his shield at Caesar's feet in a gesture of surrender. Caesar's reaction: "Ouch!"
Despite the surrender of Vercingetorix (an actual historical character), the little village of Asterix and Obelix, with its traditional druid (Getafix) and bard (Cacaphonix) remain the last outpost of Gallic resistance against Roman rule.
We discovered these books at our local library back in the early 1980s, after they had already been translated into some 111 languages. My kids devoured them, and I found them a congenial companion to our Latin studies. This latest edition features the latest translation–into American English! Though some of the Americanisms are a bit jarring for one familiar with the slightly more literary British translations, the new edition could lure a whole new class of fans to the series.
As you can tell by the names mentioned above, much of the humor depends on atrocious puns, but also good old-fashioned sight gags and clever setups. Asterix and Obelix travel through the known western world and the provinces of Asia, encountering such character as Cleopatra, Cicero, and Marcus Brutus. Readers will absorb a sense of ancient geography, Roman and barbarian culture, early Imperial politics, and a smattering of Latin. Most of the humor is accessible to middle-graders and younger, but some of it is sophisticated enough for teens and adults.
Over thirty Asterix titles were published before the death of Goscinni in 1977 (and more of inferior quality after that). The new editions bundle three stories in three volumes. Vol 1, for instance includes Asterix the Gaul, Asterix and the Golden Sickle, and Asterix and the Goths. The size is a bit smaller than the originals, which means the pages don't lay as flat, but kids who love comics won't care—and they'll learn a little history and culture, too.
Overall rating: 3.75 (out of 5)
Worldview/moral value: 3.5
Artistic/literary value: 4.75
More at Redeemed Reader:
Related Links:
We are participants in the Amazon LLC affiliate program; purchases you make through affiliate links like the one below may earn us a commission. Read more here.
Support our writers and help keep Redeemed Reader ad-free.