Mighty Reader saves the day in this loveable picture book about learning to love books.
Mighty Reader and the Big Freeze by Will Hillenbrand. Holiday House 2019, 32 pages.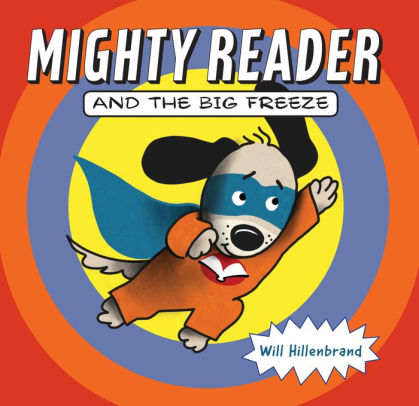 Reading Level: Picture book, ages 4-8
Recommended for: ages 4-6
When Hugo boards the bus on his first day at a new school. He's understandably nervous about making friends. But the other pups seem friendly, especially Barnabas Gustav Baklin Babbleton Jr., better known as Barkley. Barkley happens to be reading The Adventures of Mighty Reader, his most recent favorite book. Unbeknownst to Barkley, Mighty Reader himself will come to his rescue later, during an awkward and embarrassing moment in class.
The author has a lot of fun with this, and even writes himself into the story as a genial Scottie guest author named Will Hillenbrand. The author is visiting the school to talk about his most recent publication. Spring is Here (an actual book written and illustrated by Will Hillenbrand). The pups are all adorable, especially good-hearted Barkley, and the story communicates the simple pleasures of reading perhaps better, for this age, than more abstract works like How to Read A Book.
Overall Rating: 4.5 (out of 5)
Worldview/moral value: 4
Artistic/literary value: 4.5
We are participants in the Amazon LLC affiliate program; purchases you make through affiliate links like the one below earn us a commission.
Support our writers and help keep Redeemed Reader ad-free.