A Wolf Called Wander sensitively traces the journey of a young wolf in his quest for a new home and pack.
A Wolf Called Wander by Roseanne Parry. Greenwilow (HarperCollins), 2019, 235 pages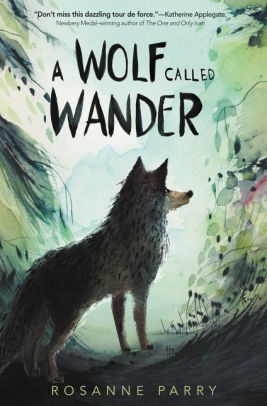 Reading Level: Middle Grades, ages 8-10
Recommended for: Ages 8-14
I begin in darkness and my nose tells me everything I know.

I have a brother, Sharp. Bigger than me, and all growl. I have sisters Pounce, who loves to wrestle, and Wag, who talks with her tail. And last of all, my brother Warm, who likes to curl up under my chin, the only pup smaller than me.
The wolf pup who begins in darkness, curled up with his litter, will be known as Swift. Speed marks him out from the others and wins him a place in the pack when they go on the hunt. He's the one who turns the elk or deer herd once their running has revealed the weakest members. He belongs to a successful pack who eats well until their territory is claimed by a rival pack. Then it all falls apart in a fury of wounding, running, chasing, losing. Swift is soon on his own in the Oregon wilderness, separated and on the hunt for food and home.
The author navigates animal conscious as well as she did for humans in Heart of a Shepherd and Last of the Name. The story of Swift is based on the pilgrimage of OR-7, a gray wolf caught and released after fitting him with a radio collar to track his movements. Like Swift, OR-7 was separated from his pack and traveled over 1000 miles before finding a mate and a home northern California. Animal lovers will find Swift's trek thrilling, with its dangers and comforts and unexpected allies. The narrative is straightforward, and free of the heavy misandry of Pax and similar animal-in-the-wild stories.
Overall Rating: 4 (out of 5)
Worldview/moral value: 3.5
Artistic/literary value: 4.5
We are participants in the Amazon LLC affiliate program; purchases you make through affiliate links like the one below may earn us a commission. Read more here.
More than 75 books for children and teens, all about islands, oceans, and more. Bonus: get a free hand-drawn reading tracker!
Reading Ahead for You
Reviews and Resources Weekly in Your Inbox