A series of charmingly old-fashioned chapter books set in the early 20th century features Newbery protagonist Calpurnia Tate.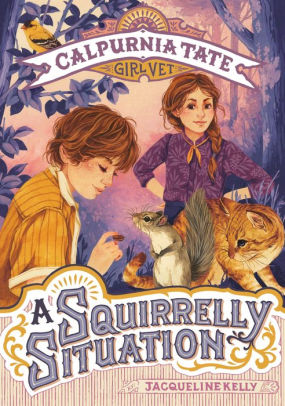 A Squirrelly Situation (Calpurnia Tate, Girl Vet #5) by Jacqueline Kelly. Henry Holt, 2019, 100 pages.
Reading Level: Chapter Books, ages 7-9
Recommended for: ages 6-10
Growing up in semi-rural Texas at the turn of the 19th century, Calpurnia Tate has plenty of opportunities to explore nature. Especially the critter kingdom. Since her little brother Travis loves animals of all kinds, and her Granddaddy is something of an amateur biologist, 10-year-old Calpurnia has both motivation and knowledge to practice her budding veterinary skills. When Travis brings home an abandoned squirrel baby, the first problem is how to feed the little thing. Idabel the cat solves that problem by adopting the squirrel along with her own kitten, but further problems develop as the bushy-tailed rodent grows.
Narrated in Calpurnia's folksy voice, these stories are a treat for animal lovers, as well as quaint slices-of-life from an earlier time. Younger readers will enjoy finding all the mice in the pictures. Older readers may want to check out The Evolution of Calpurnia Tate, a Newbery honor book from 2010, featuring a 12-year-old Callie who's growing up and expanding her view of the world (which includes an introduction to evolutionary theory—so cutting edge in 1900).
Considerations:
I haven't read the previous 4 books in this series.
Overall rating: 4 (out of 5)
Worldview/moral value: 3.5
Artistic/literary value: 4.5
We are participants in the Amazon LLC affiliate program; purchases you make through affiliate links like the one below may earn us a commission. Read more here.
Reading Ahead for You
Reviews and Resources Weekly in Your Inbox