Special God sets out to explain biblical theological concepts to young children and those with special needs.
Special God by Julie Mililli, design by Matt Stevens.  Crossway, 2018, 59 pages including grossary.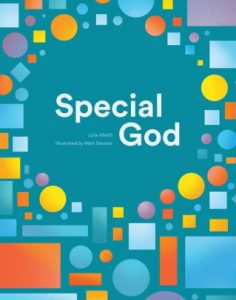 Reading Level: Picture book, ages 4-8
Recommended for: ages 5-8 as a read-aloud, 7-10 for independent reading
In the Introduction, the author recounts her search for a clear introduction to Christian theology for her daughter, a developmentally-challenged girl adopted out of a third-world orphanage.  Many of the books she encountered included cultural or familial references, or illustrations and figures of speech her daughter wouldn't understand.  Her failure to find what she was looking for led to Special God, an introduction to theology written with special-needs children in mind.  Though handsomely produced it includes no pictures, just simple graphic representations of such concepts as sin, death and separation.  A glance at the contents gives an idea of the conceptual arc: "God is Holy," "Jesus Instead of You," "Physical and Spiritual Body," "Mystery," "Eternal Life."
Most of these terms are explained effectively; the closest we might ever be able to express pure theology for a 6-year-old.  The explanation of God's holiness is one of the best I've read for any age: "He is set apart all by himself . . . He is the best and the most of all things that are good and true."  Elsewhere, what theologians call double imputation is beautifully stated as, "Jesus took all the sin you had, and he gave you all the holiness that he has."
Other expressions could have used a bit of editing: "[God] has chosen to put your needs above his own" implies that God has needs, which I'm sure the author didn't mean but could have be expressed some other way.  I take issue also with, "You will never be perfect, and you will always be a sinner."  What about in heaven?  Another chapter describes redemption this way: "Jesus, who never sinned, will get blamed . . . because of that sin, Jesus will be separated from God instead of you . . . Jesus won't be separated from God forever, and he won't be punished forever . . ."  The plan of salvation is presented here as though it were still in the future—on the drawing board, so to speak—but the tense might be confusing for a child (since it was for me!).  Still, this would be a useful addition to a church library or a family with special needs children—and maybe not too late to add to your gift list.
Cautions: None
Overall rating: 4.25 (out of 5)
Worldview/moral value: 5
Artistic value: 3.5
More than 75 books for children and teens, all about islands, oceans, and more. Bonus: get a free hand-drawn reading tracker!
Reading Ahead for You
Reviews and Resources Weekly in Your Inbox