Zayd's dream of playing basketball on his school's A-team clashes with his Muslim family's goals for him.  Ages 6-10
Power Forward (Zayd Saleem, Chasing the Dream #1) by Hena Khan.  Simon & Shuster, 2018, 126 pages.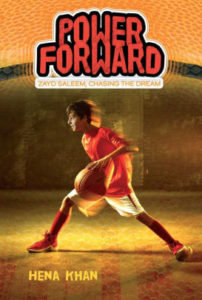 Reading Level: Chapter Book, ages 7-9
Recommended for: Ages 6-10
Meet Zayd, a third-generation Pakistani-American with a loving Muslim family and a passion for basketball.  Unfortunately his ambition for getting on the A team clashes with his mother's desire that he pursue his talent for the violin.  Zayd's ambitions are more in line with the typical American fifth-grader but his close-knit, traditional-minded family makes it a little horder to follow all the typical American fifth-grade pastimes.  His uncle Jamal is on his side, even though Jamal is charting some traditional paths as well–namely, finding with a wife.
The plot of this likeable chapter book is standard, but told with humor and warmth.  The glimpse into a Muslim family life (as American as apple pie and paratha) will expand a reader's perceptions of different cultures.  Aside from a language caution (see below), it's good choice for sports-lovers, boys, and reluctant readers.  Volume #2 in the series, On Point, is also available.
Cautions: Language (two misuses of God's name by teenage sister Zara)
Overall Rating: 3.75 (out of 5)
Worldview/moral value: 3.5
Artistic value: 4
More than 75 books for children and teens, all about islands, oceans, and more. Bonus: get a free hand-drawn reading tracker!
Reading Ahead for You
Reviews and Resources Weekly in Your Inbox