Hunger stalks Lorraine and her family as they struggle to cope during Ireland's potato famine in this historical fiction middle grades novel.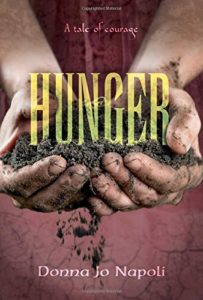 Hunger: A Tale of Courage by Donna Jo Napoli. Simon & Schuster, 2018. 272 pages.
Reading Level: Middle grades, ages 10-12
Recommended For: Middle grades, ages 10-12, and up
Lorraine is starving. Her little brother, Paddy, is starving. Her Ma and Da are starving. Everyone around them is starving–except for the English nobleman and his contrary daughter in their fancy house. It's the 1840s in Ireland, and the potato famine is in full swing. Lorraine forms a strange friendship with the nobleman's daughter, Miss Susanna, who seems as desperate for companionship as Lorraine is for food. As Lorraine's family struggles to survive, one by one, those around them die, emigrate to America, or move to other places in the British Isles. There are no easy solutions, and some are not solutions at all (the workhouses in England are not the most desirable place to end up!). Still, there's hope at the end of the book as Lorraine and her parents decide to stay and persevere. Ireland is, after all, their home.
This is a hard book to read in some similar ways as books set in war time. Starvation is an ugly specter, and people do strange things under its influence. We forget that the potato famine in Ireland was every bit as desperate in its way as some contemporary situations in North Korea or Africa. This is a poignant book, a bit slow at times, but one that is worth reading for its historical relevance and/or for its picture of starvation. Lorraine's younger brother dies (as do other characters), so be prepared if you have sensitive readers. Another issue to be prepared to discuss is the treatment of the church in this book. Lorraine, understandably, questions the role of the church and their faith. The church (Irish Catholicism) appears to be hypocritical and unhelpful to Lorraine. This is often true when people cling to the outward signs of religion instead of clinging to God himself. Middle school is a good time to start helping students make this distinction between outward signs (i.e. church attendance) and an inner, personal relationship with Christ. An interesting companion novel might be the Young Readers Version of The Hiding Place since the ten Booms are facing desperate straits and clinging to the Lord in their desperation.
Cautions: Violence and Despair (death and despair from starvation)
Overall Rating: 4
Artistic Rating: 4.25
Worldview Rating: 3.75
More than 75 books for children and teens, all about islands, oceans, and more. Bonus: get a free hand-drawn reading tracker!
Reading Ahead for You
Reviews and Resources Weekly in Your Inbox