Matthew, housebound because of his OCD, uses his detailed observations of his neighbors to help solve the disappearance of a toddler in this middle grades mystery.  Ages 10-12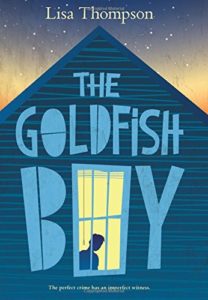 The Goldfish Boy by Lisa Thompson. Scholastic, 2017. 320 pages.
Reading Level: Middle grades, ages 10-12
Recommended For: Middle grades, ages 10-12
If someone enters Matthew's room, or touches him, or sneezes anywhere in his general vicinity, or the cat walks by, he simply must wash his hands. In fact, he's washed his hands so many times, they are raw. But they are clean. As are the walls in his room (and every other surface). The harsher the cleaning agents, the better for the war on germs. His fear of germs now keeps him housebound. Thus, since Matthew is watching his neighbors (as usual) instead of attending his germ-infested school, he is the one who becomes the most able to solve the mystery of the toddler who disappeared one day.
Matthew's OCD tendencies are heartbreaking, and Thompson makes him a pretty sympathetic character. Readers can feel his fear even as they cheer on his small steps when he ventures outside. The cause for his OCD is a particular family trauma (his little brother's death). It turns out that Matthew actually didn't have anything to do with his little brother's death, but the build up in his mind (and, therefore, in the reader's) makes this final revelation a bit anticlimactic. The plot behind the actual mystery rambles a bit, but Matthew's growth as a character is a believable one. Cognitive behavior therapy coupled with Matthew's work in solving the mystery of the toddler offer hope by the end of the book that he will overcome his compulsive tendencies. Even though it's not this easy for many people who struggle with OCD symptoms, Matthew's case will still provide good talking points for kids with their parents, especially if they know someone with OCD.
Cautions: none
Overall Rating: 3.75
Artistic Rating: 3.75
Worldview Rating: 3.75
For other books that tackle mental illness and issues such as autism, see Counting by 7s, Marcelo in the Real World, and The Real Boy.
Please follow and like us: