Early Auden is Jack's guide to Pi as they voyage to find the giant bear and complete their quest in this thought-provoking, intricate historical novel.  Ages 12-15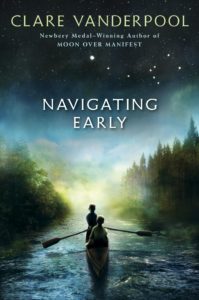 Navigating Early by Clare Vanderpool. Yearling, 2014 (reprint). 336 pages.
Reading Level: Early teen, ages 12-15
Recommended For: Ages 12-15 (and mature 10-12 year olds)
Set just at the end of WWII in a boys' boarding school in Maine, Navigating Early follows Jack's journey to come to grips with his mother's death and his father's seeming unconcern for him. In the process, he meets the unique Early Auden, goes on a fantastical voyage that weaves in and out of the mythic story of Pi (including the discovery of further numbers), and helps bring closure to more than one person in Early's famous family.
Early teaches Jack many things on their voyage to find the giant bear, follow Pi's journey, and complete their quest. What Jack doesn't know is that Early's absolute conviction of his brother's survival from war (against ALL official evidence), his knowledge of the mathematical intricacies involved in the number Pi, and his childlike faith in the details he notices are all true–even though the casual observer would never believe it. Early notices myriad details that others miss, perhaps because he's not so caught up in the social issues that bog most folks down. If Early Auden were living today, we would diagnose him somewhere on the autism spectrum–probably Asberger's. I really like that he is NOT diagnosed in this book (he wouldn't have been labeled in the WWII time period either). This adds to his character significantly. We want to label people in so many ways; isn't it better to befriend them and learn from them regardless of what label they might carry? Jack learns that Early is a true friend. And Jack learns how to be a friend back.
Part magical realism, part quest, and all friendship, this story works for me better than the author's Newbery-winning Moon Over Manifest. It's a touch too long and struggles a bit with the voice–sounds more like an adult narrating than Jack many times. Still, it's worth reading, and I think many sensitive young readers will enjoy this one.
This is an adaptation of a review I originally wrote in 2013 for a different source. As such, it's missing our usual "cautions." I do not remember there being significant cautions, but we always encourage our readers to be discerning!
Overall Rating: 4.25
Artistic Rating: 4.5
Worldview Rating: 4
Please follow and like us: