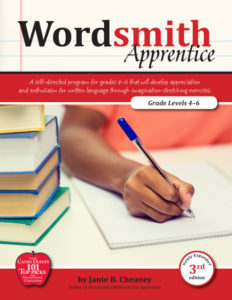 In honor of National poetry month, here's a sample lesson from Wordsmith Apprentice to help reluctant writers produce original verse.
"Poetry" is a scary word to too many schoolchildren–and their parents.  That's a shame, because poetry is the earliest form of literature, dating back to the smoky halls and sunlit amphitheaters of the ancient world.   Up until about 50 years ago it was still a popular form of expression, and by "popular" I mean loved by the people.  I'm old enough to remember having to memorize and recite poetry in elementary and junior high–I even remember some of the poems!
But somehow literary poetry became the purview of "experts" (critics and professors) and popular poetry retreated to the music industry.  Schoolchildren don't have time for recitations of Coleridge and Longfellow, and they are poorer for it.
Writing poetry is another matter–almost every writing program includes some instruction in verse.  There are all kinds of ways to teach poetry composition, and  all kinds of poems, but the subject can still be scary for those young people who don't know where to start.  Or those older people who struggled with Shakespeare and T.S. Eliot in high school and never want to meet a metred line again.  A step-by-step approach works for both.
Wordsmith Apprentice, my writing program for grades 4-6, addresses much more than poetry.  Entering the scenario of a small-town newspaper office, students learn the various uses of written language and how to apply them in imaginative ways.  As our editor explains:
And what do you know?  This small-town newspaper still has a poetry corner (as some of them actually do), and the rookie will have an an opportunity to contribute to it.  By learning some formal poetry styles ("formal" simply meaning highly structured), the student learns that the main challenge of poetry is economy and perspicacity.  That is, saying exactly what you mean to say in the fewest words possible.  Give it a try, with this free download:
For another sample lesson, scope & sequence, and ordering information for Wordsmith Apprentice, Third Edition go to Common Sense Press.
Reading Ahead for You
Reviews and Resources Weekly in Your Inbox