Designed for parents of preschoolers, the CBS Read-to-me Bible offers a straight path from familiar Bible stories to the text itself.
CSB Read-to-Me Bible.  B&H Kids, 2017, 1696 pages.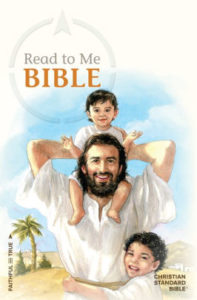 Recommended for: ages 0-6 (and their parents)
With 1696 pages and a 5 x 8.5" cover dimension, this Bible makes quite a little chunk, and is not the usual read-to-me size.  But the single-column format makes it look more like a storybook, minus pictures.  True it its title, this Bible is intended for non-readers, with parents or older siblings to introduce them to reading from the Word itself.  The opening section of full-color glossy pages provides help for parents.  Starting with lists of things preschoolers should know, at three levels of maturity, about God, Jesus, the Holy Spirit, church, the Bible, the family, etc.  These are followed by two more lists of Bible skills levels.  Four icons provide a basic presentation of the gospel for preschoolers, and several pages of illustrations picture everyday objects as they would appear in Bible times: means of transportation, food, houses, churches, and more.
Full-color inserts throughout the text consist of illustrations and narrative for 36 Bible stories.  For very young children, parents read the bold print only; for 3 and 4 year-olds, they can read the entire story, and children 5-6 should be ready to hear the same story read from the CSB text, perhaps with reference to the pictures in the front.  Eighteen additional stories in the appendix might be seen as transitions: for hearing only, with no pictures provided.
Why a "read-to-me" version?  Why not just use a popular Bible storybook, like Sally Lloyd Jones's?  One reason might be the transitional value.  We train our children to sit quietly in church from an early age, graduating from visual content to verbal; from drawing pictures in crayon to taking notes while listening.  This Bible might facilitate that same sort of progression: from hearing stories about God, to hearing stories from God, through His inspired word.
Overall value: 4.25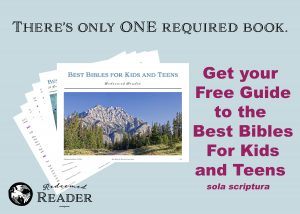 Readers: this is one of our "Best Bibles" picks! Get the free list!
Please follow and like us: