The CSB Kids' Bible, in various formats, provides ease of reading with helpful inserts.  Ages 8-12
CSB Kids' Bible. B&H Kids, 2018, 1568 pages.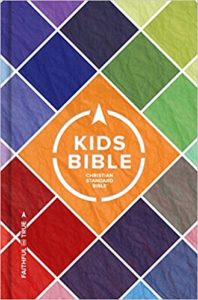 Recommended for: ages 8-12
If you like a clean and uncrowded look, along with CSB readability, check out the several editions of Holman's children's Bibles for upper-elementary grades.  Rather than interspersed through the text (as in the CSB Big Picture Interactive), the kid-friendly study helps are confined to 40 full-color glossy inserts.  These include a checklist for three levels of Bible-study skills (from "I can find a Bible book" to "I can explain what a favorite verse means to me"); Prayers in the Bible, kids in the Bible, a Bible knowledge quiz, maps, book divisions and summaries, hints and how-tos (such as "How to Have Quiet Time with God").  Also Abraham's family tree, the Life of Jesus (illustrated with several small pictures of Jesus), names of God, etc.  These are placed as near the appropriate passages as possible, but the general-knowledge pages can be quickly located by the index in the back.  For this age, a study study Bible may have limited use; these pages help provide summary information without intruding on the text.
The basic "Kids' Bible" is attractive but not dazzling.  For slightly more personality, Space, Power, Hope and Love add spacey, comic-booky, hopey, and lovey designs to the inserts; otherwise the content is the same.  No big frills, but the large 12-point font is easier on the eyes.  That makes for a sizeable volume—a whopping 1568 pages—but young Bible-readers need to develop their muscles, anyway.
Overall rating: 4.5 (out of 5)
To browse our earlier reviews, click The Good Book under the Reviews tab, or type "Bible Reviews" in the search box on the right side of this page.  For a particular  translation, type "Bible Reviews" followed by the translation initials (NIV, NIrV, ESV, NKJV, etc).  Also see these helpful posts:
Our Comparison of Bible Translation
Support our writers and help keep Redeemed Reader ad-free.