The NIV Kids' Visual Study Bible presents helpful notes, illustrations, and infographics in a unique layout.  Ages 8-12
NIV Kids' Visual Study Bible, Zonderkidz, 2017, 1952 pages.
Recommended for: ages 8-12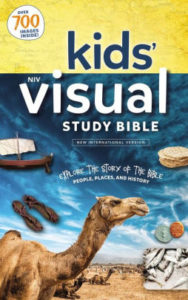 The New International Version (NIV)  has slipped a bit from its near-universal pulpit dominance in the 1980s and 90s (does anyone remember memorizing whole chapters from it for Bible quiz competition?).  It's still an acceptable translation, though not considered quite as accurate as the NKJV or ESV (or CSB, for that matter).  This new children's study Bible has a different format from most (such as the classic NIV Adventure): rather than scatter "features" throughout the text, it reserves the wide, tinted outer margins for notes.  I find this simpler and less distracting, and an easy way to transition young readers to the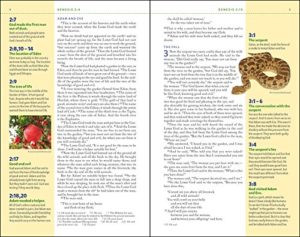 typical arrangement of study Bibles for adults.
The notes themselves are very helpful.  As in a study Bible for grownups, young readers will find explanations, charts, comparisons, "Big Ideas," and definitions.  But because they're kids, the notes include small photos and illustrations as well.  Infographics include timelines, mini-maps, character profiles, and summaries (e.g., Highlight's of Hezekiah's reign).  The Appendix provides an index of infographics and standard, full-page, full-color maps.
Some drawbacks: the text is tiny—only 8 point, so maybe they could have done with a few less notes.  Parents uncomfortable with picturing Jesus should be aware that there are a few very small illustrations of him included in the notes.  Otherwise, this is a "study Bible" for kids that may actually help them study!
Overall Rating: 4 (out of 5)
To browse our earlier reviews, click The Good Book under the Reviews tab, or type "Bible Reviews" in the search box on the right side of this page.  For a particular  translation, type "Bible Reviews" followed by the translation initials (NIV, NIrV, ESV, NKJV, etc).  Also see these helpful posts:
Our Comparison of Bible Translation
Choosing Your Child's First REAL Bible: Some Considerations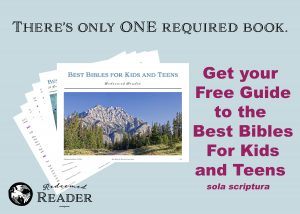 Readers, this is one of our top recommendations for children's Bibles. To see more, get your FREE Guide to the Best Bibles for Children and Teens!
Support our writers and help keep Redeemed Reader ad-free.