Andy Crouch poses questions that should get Christians thinking about their role as "culture makers."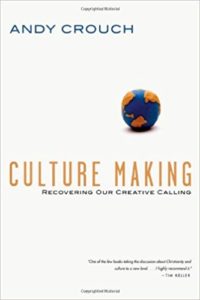 Culture Making: Recovering Our Creative Calling by Andy Crouch. Intervarsity Press, 2008, 268 pages.
Reading Level: adult
Recommended for: ages 16-up
"Culture" is a notoriously difficult word to define, partly because it's so elastic. Social changes, fine art, a malevolent undercurrent (such as "culture of rape")—all these might be meant by the word culture. Andy Crouch (author of The Tech-Wise Family) helpfully draws the boundary lines right away by borrowing a definition from Ken Myers: "Culture is what we make of the world." "We" includes everybody: kids and grownups, socialites and suburbanites, portraitists and plumbers, dancers and doctors. But especially Christians. Crouch sketches four ways Christians typically respond to "the culture." These are condemning it, critiquing it, copying it, or simply consuming it. There is certainly a time and place for all these, but we should be more aware of our calling to create culture—especially that which reflects the beauty and character of our great creator.
With those principles as a starting point, Crouch goes on to explore how culture is made, challenged, and recreated in scripture, from Genesis to Revelation. Then, after some appropriate cautions about "Why we can't change the world," he offers a rationale for what we can do. the rationale includes recognizing God at work in our own world, understanding how even the powerless (like us) exercise power, gathering our communities of "the three, the twelve, and the one hundred and twenty," and (most importantly) discovering our calling.
How do we, as Christian parents, teachers, students, and readers, "make" culture? Of course there's no one answer for everyone, but it's a question worth thinking about. Readers may challenge some of the premises in Culture Making, but the book certainly provides food for thought.
Cautions: None
Overall rating: 4.75 (out of 5)
Worldview/moral value: 5
Artistic value: 4.5
More than 75 books for children and teens, all about islands, oceans, and more. Bonus: get a free hand-drawn reading tracker!
Reading Ahead for You
Reviews and Resources Weekly in Your Inbox