Caleb and Kit brings together a boy struggling with Cystic Fibrosis and a girl over-compensating for a neglectful parent.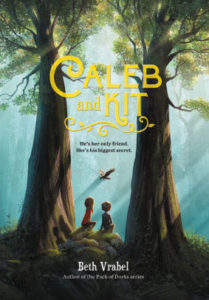 Caleb and Kit by Beth Vrabel.  RP Kids, 2017, 254 pages
Reading level: Middle Grades, ages 10-12
Recommended for: ages 10-14
Caleb was just out for a walk in the woods the day he met Kit.  Or actually, he was out to get away from the snarky comments and condescending attitude of his older brother, "Perfect" Patrick.  Caleb's peculiar burden, Cystic Fibrosis, makes a great target for condescension, since it comes with constant coughing, gross mucous, and other complications too embarrassing to mention. He's also small for his age—strangers think he's nine instead of twelve.  But Kit doesn't appear to notice any of these things.  Instead, she draws Caleb into her rich fantasy world, where half-starved dogs are captured princesses and neglected children are fairy changelings.  The only principle of Kit's world is We do what we want.  It seems like an enchanted existence, until Caleb begins to notice that Kit's stories don't make sense and her explanations don't add up.  Magic keeps bumping up against a hard edge of reality.
A tale of two troubled children could easily get mawkish, but that doesn't happen here.  Caleb's voice is often irritating, as he's snarky and gripey by turns.  But we not only see how his disease burdens him; we see how it burdens everyone around him.  He eventually does the right thing, after a series of wrong things, and becomes a better person in the process.  Part of becoming a better person is learning to appreciate the adults who sincerely love you, however burdensome that love may seem at times.  (And however imperfect those adults are: Caleb's parents are divorced, making for an over-protective mom and a disengaged dad) Growing up is hard–with or without a life-shortening disease–and kids can't do it alone.  The ending is not unambiguously happy, but it's hopeful.
Also by Beth Vrabel: Pack of Dorks
Cautions: Character issues (Caleb's dad is living with his new girlfriend)
Overall rating: 4 (out of 5)
Worldview/moral value: 3.75
Artistic value: 4.5
Talk amongst yourselves...