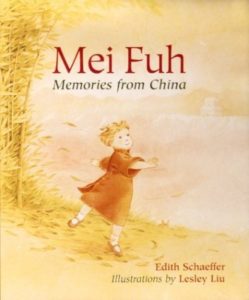 This is a guest post by Candice Watters, blogger at Family Making. Her original, longer review of Mei Fuh appeared there first. Welcome, Candice!
Travel with theologian Francis Schaeffer's wife, Edith, to China, the land of her birth, in this autobiographical story for grade school aged children.
Mei Fuh: Memories from China by Edith Schaeffer. HMH Books for Young Readers, 1998. 96 pages.
Reading Level: Chapter books, ages 8-10
Recommended For: Ages 6-12, especially as a read aloud
The best kind of children's book is one that the youngest in the family loves nearly as much as the grown ups and big kids. Edith Schaeffer's Mei Fuh is just such a book. A memoir of her life as a baby born in Wenchow China to missionary parens, Mei Fuh takes you into the life of a child who speaks more Chinese than English, knows how to eat rice and drink tea simultaneously, and has silk worms for pets, even as her Christian missionary parents shape her world to be biblically faithful.
Mei Fuh must certainly contain Schaeffer's earliest memories of life. Yet she adds the benefit of decades of reflection, and a Christian worldview, to delve into complex themes of private property and theft, love for nature and animals, and the sanctity of human life. Schaeffer weaves her memories into stories as skillfully as the Chinese woman who used her chopsticks to transform the silkworms' cocoons into the most luxurious silk for a dress. Through her stories, Schaeffer helps us know what it was like to transition from the country of your birth to the country of your citizenship; how missionary life can resemble our residency on earth as citizens of heaven. Most memorable was God's providential care of the details — directing Schaeffer's birth in a far flung province of China, ordaining a childhood shaped by the customs and culture that would remain an influence on the rest of her life. I marveled to think that this twirling girl who loved the feel of smooth bamboo and the sights and smells of oiled umbrellas in a walled compound in Wenchow would grow up to the be the woman who would host so many seekers at the shelter, L'Abri.
Cautions: Violence (mention is made of abandoned baby girls when Chinese families wished for sons)
Overall Rating: 4.75
Worldview: 5
Artistic Value: 4.5
Please follow and like us: