NIV Wonders of Creation Bible rides on the adult coloring-book fad with double-page spreads of animals and plants to color.
NIV Wonders of Creation Holy Bible. Zondervan, 2016, 1152 pages.
Recommended for: ages 8 and up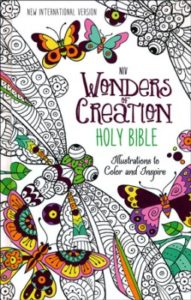 This is not a study or devotional Bible, but a straightforward "reading version," with no book introductions or supplementary material except the standard Table of Weights and Measures in the back. Wonders of Creation capitalizes on the "adult coloring book" fad with coloring pages bound within the text in four-page groups. These are not Bible story pictures but, as the title suggests, flora and fauna of the natural world. The form is stylistic rather than natural, and each features a Bible verses. For example, a full-page representation of a gorilla with huge eyes is paired with Hebrews 4:13: "Nothing in all creation is hidden from God's sight." The flat-fold binding aids in reading, but especially in coloring.
Obviously not intended to enhance a reader's knowledge of the scriptures, but for a middle-grade-and-up coloring fan, it could make a nice gift.
Value: 3 (out of 5)

To browse our earlier reviews, click The Good Book under the Reviews tab, or type "Bible Reviews" in the search box on the right side of this page.  For a particular  translation, type "Bible Reviews" followed by the translation initials (NIV, NIrV, ESV, NKJV, etc).
Our Comparison of Bible Translation
Choosing Your Child's First REAL Bible: Some Considerations

Please follow and like us: