Beautiful, lengthy prose accompanied by striking woodcut illustrations make this retelling a good fit for intermediate and middle grade readers.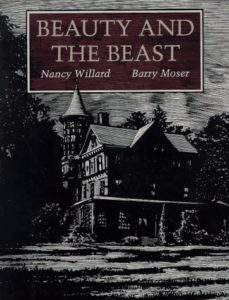 Beauty and the Beast by Nancy Willard and illustrated by Barry Moser. Harcourt, 1992. 67 pages.
Reading Level: Middle grades, ages 8-12
Recommended For: middle grades, ages 8-12, and younger (experienced) listeners
Pretty girls are a dime a dozen. Beauty is much rarer than you might suppose.

"Many folks with handsome faces are greater monsters than you," said Beauty. "Their ugliness is all inside them."
This Beauty and the Beast narrative is set in old New York, both the city and the country. Horse drawn carriages are still in vogue, the Hudson River ices over, and the rich send their daughters to boarding schools in Switzerland. Beauty and her two sisters, Mona and Vanessa, have predictable reactions when their father suddenly loses his fortune; Beauty is loving and kind, eager to serve her poor father, while her two sisters mope and complain. True to form, the father hears news his fortunes may have been reversed, rushes to the city only to find his hopes dashed, and ends up in the Beast's castle on the return journey. When he plucks the rose, the story unfolds, and Beauty soon appears in the castle in his stead.
This is a particularly striking version of Beauty and the Beast with evocative woodcut illustrations and lovely prose. Willard leverages her gifts well in the retelling of this tale, keeping it fresh and interesting even as it adheres to the traditional storyline. The overall themes of inner and outer beauty/beastliness and love redeeming the hideous beast are present, but this version does not say the Beast was first a prideful, spoiled young man. There is no explanation given for his beastliness, and this lessens the "oomph" of his final transformation slightly. Nonetheless, this is a good version to seek out for readers who are not ready for a novel-length retelling, but want more of a story than most picture book versions deliver. Families who enjoy classic literature will also enjoy this version.
Cautions: none
Overall Rating: 4.75
Artistic Rating: 4.75
Worldview Rating: 4.75
This is part of our Beauty and the Beast Adventure! Redeemed Reader is not affiliated with or endorsing the new Disney movie. Rather, we are exploring the biblical themes in the traditional fairy tale and looking at related titles and retellings.
More than 75 books for children and teens, all about islands, oceans, and more. Bonus: get a free hand-drawn reading tracker!
Reading Ahead for You
Reviews and Resources Weekly in Your Inbox