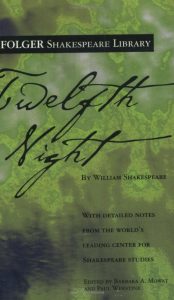 Twelfth Night, or What You Will is not exactly a Christmas play, I'll admit.
But "Twelfth Night" does refer to the 12th night of the 12 Days of Christmas parties celebrations when order is restored. Although neither Christmas nor Twelfth Night is mentioned in the play itself, the theme of the play is one we as Christians can heartily support and has particular relevance during Advent.
Think on this: there is chaos. People are acting a part. Men and women are mixed up. Relationships are messy and fraught with misunderstanding. And yet, at the end, all is put back to right. Order is restored, men and women rightly relate to one another, and sins against one another are forgiven.
Is that not a picture of what Christ's birth signifies for our messy, fallen world? 
Shakespeare doesn't write a Christ figure into this play. Still, as Christians, we can extrapolate out how the themes of order from chaos are not only relevant to our lives as believers, but the very idea of order from chaos necessitates divine intervention. In light of Twelfth Night, we might point to the juxtaposition of all the characters at the end. Order isn't possible without the revelation of truth (Viola's identity). In this way, we see a reflection of the ultimate revelation of Truth, the Word of God incarnate.
December Fun
Not only is the central truth of the play relevant, the play is just fun. I always taught this play in December to my high school classes (so many only read the great Shakespearean tragedies during high school, and exposure to a comedy was always welcome). We didn't read the entire play aloud. We read summaries and watched a film version that used original language. Shakespeare wrote his plays to be heard and seen, after all. This particular play is a bit convoluted and very young children might have trouble following along. But third grade and up should have little to no trouble enjoying the mishaps of girls dressing up as boys, people falling in love with the wrong people, and general hilarity. Whether you are homeschooling your children or teaching a group of children in a classroom, consider using some of the resources below to enjoy this play this winter and to jumpstart a discussion of some of the chaos the Lord Jesus entered our world to set right. (Check libraries for these resources–they usually have a good selection of Shakespeare-related titles and films!)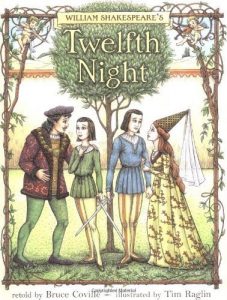 William Shakespeare's Twelfth Night retold by Bruce Coville. An excellent retelling in picture book form with lovely woodcut-style illustrations. Coville's story is meaty enough to hold a high school audience's attention, but is accessible to middle elementary as well. He captures the feel of the original language even while he retells the story in modern English. An excellent introduction. Out-of-print, but check local libraries for it. (If you are a librarian, don't "weed" this title!)
Synopses of the play may also be found in these excellent Shakespeare anthologies:
Shakespeare's Stories for Young Readers by E. Nesbit
Leon Garfield's Shakespeare Stories by Leon Garfield
Tales from Shakespeare by Tina Packer (out-of-print; check libraries)
Tales from Shakespeare by Charles and Mary Lamb
More Tales from Shakespeare by Marcia Williams (comic-book style)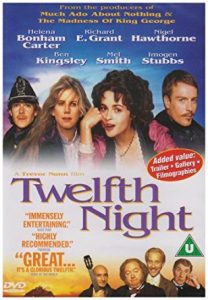 Twelfth Night: Or What You Will in modern movie format. This is quite well done, uses the original language, and will be more accessible to students more unfamiliar with Shakespeare than the Globe production below. It is funny, well-acted, and will be a good starting point for discussing gender roles and some of the LGBTQ issues we are facing in our society.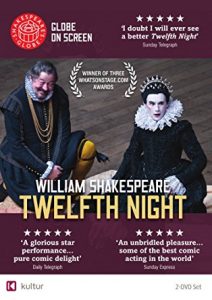 Twelfth Night – Shakespeare's Globe on Screen. Starring the likes of William Fry, this is Shakespeare recreated fairly authentically. An all male cast, just like Shakespeare's day, adds an extra layer in a play that features a male actor dressed as a woman character who dresses up as a male….
Discussion Questions (most are for older children/teens):
What evidences of chaos do you see in the world around us? (for younger children: what are some examples of things that are messed up in our world?)
How has Christ offered hope in that chaos? (for younger children: how does Jesus offer hope that will fix some of the mess?)
Regarding gender issues, in particular, how do the gender issues in the play reflect what is going on in our current society? If Shakespeare were writing today, what might he change or embellish in this area?
How does Christ offer hope and restoration specifically in the areas of gender and sexual chaos we see so rampantly in our society? Will there be true restoration before his second Advent?
Where do we see joy around us? Twelfth Night is meant to be funny and joyous–how does Christ offer true joy?
What do you think? Are there other themes in Twelfth Night that also have relevance for us as Christians? Do you have a favorite resource you'd like to share?
We're no strangers to Shakespeare here at Redeemed Reader. We've discussed Shakespeare in general and thrown out some ideas for Shakespeare Summers with plenty of resources. More specifically, I've mused over seeing Christ in Othello ramifications for believers during Advent (if you're in the mood for a tragedy this month instead of a comedy!).