Miss Penelope Lumley has been hired by Lord and Lady Ashton as governess to their three strange children in this delightful series opener.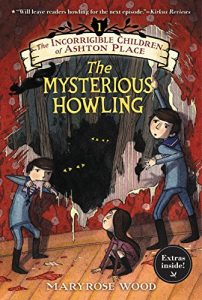 A review from our archives! (originally published June 6, 2016)
The Mysterious Howling (The Incorrigible Children of Ashton Place #1) by Maryrose Wood and illustrated by Jon Klassen. HarperCollins, 2009. 267 pages.
Reading Level: Middle grades, ages 10-12
Recommended For: Middle grades, ages 8-12 (and up!)
When Miss Penelope Lumley graduates from the Swanburne Academy for Poor Bright Females, she gathers her significant reserves of courage and intelligence and bravely heads to her new governess post at Ashton Place. The adopted children of Lord and Lady Ashton are no ordinary children, though. In fact, Alexander, Beowulf, and Cassiopeia display some rather marked canine behaviors (such as chewing on things, chasing squirrels, and, well, barking). Miss Lumley, thankfully, is no ordinary young governess. Not at all. A Swanburne girl through and through, she is always prepared and rises to every occasion. Instead of working diligently on Latin, historical facts, and poetry, Miss Lumley first works on etiquette and general socialization. Hints at the children's origin, a cryptic character in the coachman Old Timothy, and the children's rapid progression to civilized behavior make for a quick, interesting read that ends on a tantalizing note.
About the Series: The Incorrigible Children of Ashton Place series chronicles Penelope's attempts to civilize Lord and Lady Ashton's wards while dodging dangerous situations and learning more about their mysterious parentage (and her own). Fans of the Lemony Snicket books will notice a similar tone in this series as droll, understated asides to the reader pepper the storyline and a self consciously elevated style will have readers in giggles. Threads introduced in the first volume are still being resolved in volume 5; this is a series that must be read in order! The value of all life (human and animal) is a subtle theme running through the series, and no one person is less significant than another regardless of his or her idiosyncrasies. These make delightful read alouds, appeal to both boys and girls, and will strike chords with other children who are also learning at home (whether from a governess or their own parents). Much like in many traditional fairy tales, such as Beauty and the Beast, a family curse is involved. Otherwise, the series reads more like British historical fiction with no outright magic, wizards, or dragons making an appearance.
Cautions: Supernatural (a family curse)
Overall Rating: 4
Worldview Rating: 4
Artistic Rating: 4
Other Titles in the Series (to date): 
Support our writers and help keep Redeemed Reader ad-free.