This picture book beautifully brings the creation-fall-redemption story to life!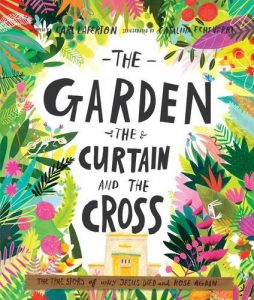 *The Garden, the Curtain and the Cross: the True Story of Why Jesus Died and Rose Again by Carl Laferton and illustrated by Catalina Echeverri. The Good Book Company, 2016. 32 pages.
Reading Level: Picture books, ages 4-8
Recommended For: Ages 0-8 (families, Sunday School classrooms, and more!)
This remarkable picture book beautifully depicts the creation-fall-redemption story in a way that is fresh if you already know it, and clear if you don't. The best part about Eden is that God is there. The worst part of the fall was that Adam and Eve decided they didn't want God in charge. The result of their sin was a great big KEEP OUT sign. The theme of this book is that God desires to be with His people, but "because of your sin, you can't come in." He told them to build a temple, but a cherubim-embroidered veil reminiscent of the KEEP OUT flaming swords at Eden separates the people from the Most Holy Place. For generations the veil hung in the temple, a constant reminder to KEEP OUT. But then, God's Son, Jesus, came. He who never sinned went to the temple, knew the sin and sorrow of the earth, and preached the good news.
"But…people still didn't want to let God be in charge. So they decided to put Jesus on a cross to die."
Readers are plainly reminded of our rebellion and hatred towards God and why Jesus suffered. And then, we learn that when the curtain tore, "God had ripped up the KEEP OUT sign!"
This beautifully illustrated picture book doesn't end with the resurrection. Rather, it goes on to anticipate our hope in glory, that because Jesus died, we may be forgiven and live with God forever, as He intended all along. The book ends on a note of praise. Illustrations nicely accompany the text. First bright and ethereal, then dull, and finally bright and ethereal again. Jesus is portrayed as the only bright spot on earth, then in the end as a joyful, white-haired, strong king who is eager to be with His people. This is an excellent example of a picture book that reverences Scripture both for its story and delight. Put it on your gift list, and keep a couple on hand for sharing the gospel with others.
Cautions: none
Overall Rating: 5
Worldview Rating: 5
Artistic Rating: 5
I received a copy of the book from the publisher in return for a fair review.
This title is part of Church History October. For more interesting reading about church history for kids, see our Church History October post!
Support our writers and help keep Redeemed Reader ad-free.