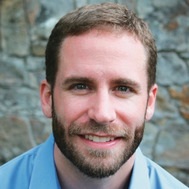 We are delighted to bring you a virtual interview with Brian Cosby, author of one of our featured church history resources for teens: God's Story: A Student's Guide to Church History, published by Christian Focus. A native of Signal Mountain, Brian was called to Wayside Church (PCA) in April 2012. He is Visiting Professor of Church History at Reformed Theological Seminary, Atlanta, and Adjunct Professor at Belhaven University, Chattanooga. He holds degrees from Samford University (B.A.), Beeson Divinity School (M.Div.), and the Australian College of Theology (Ph.D.). He is the author of over a dozen books and regularly contributes to various magazines, journals, and blogs. He enjoys reading, backpacking, soccer, and guitar. He and his wife, Ashley, have three children.*
Redeemed Reader: Depending on a kid's family or denominational background, he or she may know next to nothing about church history, especially pre-Reformation church history. Brian, did you grow up in a family or church setting where this was regular ol' stuff, or did you learn most of it as an adult, perhaps when you were in seminary?
Brian: Good question. I didn't grow up hearing much about church history in either my home or at school (I went to a Christian high school). I learned most of it while in college, as a history major, and in seminary. I would say, however, that my parents were (and are) very interested in church history and I think they have also increased in their love for church history over the years. So it's been a joy to learn some of this together!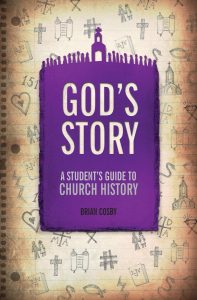 RR: I love your four reasons to know church history (as given in the intro of God's Story)! For readers who haven't read the book yet, you state that knowing church history (1) helps explain our identity, (2) helps explain the present, (3) guards us from repeating its mistakes, and (4) testifies to God's powerful working as HIS STORY. Which of these reasons do you think is most relevant to the teens who might be reading your book?
Brian: Of the four reasons why we need to know church history, I would say that the most helpful for teens reading it might be that it guards against repeating past mistakes. We live in such a live-in-the-moment culture that has lost touch with the voices–good and bad–from the past. If we knew history, we might not be so quick to jump on the latest cultural fad or idea, as it has probably been dealt with (in some fashion or another) before.
RR: Excellent point! How can we keep church history relevant and interesting to the kids and teens with whom we work? What are some ways you might encourage parents and those in the Christian community to educate young people about church history?
Brian: I have found that the best way to keep students interested in church history is to give them the big-picture story along with the nitty-gritty details. The interesting parts are in the details because that's what we can relate to. For example, it's much more interesting to know that Ulrich Zwingli was killed while wielding a battle axe on the the battlefield rather than simply knowing that "he just died." Give them the details.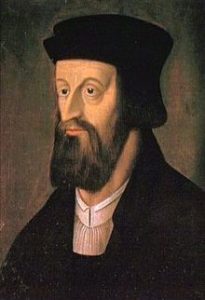 RR:
Wow–an image of Zwingli wielding a battle axe is a pretty robust picture! What's one of your favorite pre-Reformation church history tidbits or stories? 
Brian: I love the story of John Hus. Here was a man that, when faced with death by being burned at the stake in 1415, told the bishop overseeing his execution, "You may cook this goose, but there will fly from here a swan that you will never be able to silence." Years later, many looked to Martin Luther as that "swan." In fact, in many paintings of Luther that you see today, there is a swan in the background. When Luther was being ordained as a priest, he had to lay prostrate on the floor of the chapel in Erfurt, which was ironically where that same bishop who oversaw Hus' execution was buried! As R. C. Sproul quips, I wonder if the bishop told Hus, upon hearing Hus' now-famous statement, said, "Over my dead body." Ha!
RR: That IS a great story! So, in addition to your book, of course, what are five reading recommendations on church history for kids and/or teens and/or adults?  [Note: links are to reviews on Redeemed Reader]
Brian:
The Church History ABCs by Stephen Nichols and Ned Bustard;  [picture book]
History Lives series published by Christian Focus and written by Brandon Withrow; [middle grades]
any of the Trailblazer series published by Christian Focus Publications; [middle grades; see our upcoming review of Brother Andrew]
any of the Christian Biographies for Young Readers series published by Reformation Heritage Books; [middle grades/picture books; see our review of one of Simonetta Carr's books]
Church History 101 by Joel Beeke, Sinclair Ferguson, and Michael Haykin
Christian History Made Easy by Timothy Paul Jones
RR: Thanks so much, Brian, for taking the time to "chat" with us!
*photo and biography primarily taken from Wayside Church's website. Image of Jan Hus from Wikipedia.
This interview is part of our Church History October series–check it out!
More than 75 books for children and teens, all about islands, oceans, and more. Bonus: get a free hand-drawn reading tracker!
Reading Ahead for You
Reviews and Resources Weekly in Your Inbox