A perfect instruction manual for young tinkerers who want to know how things work and how to leverage the six simple machines to build cool stuff!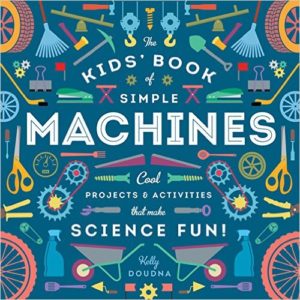 The Kids' Book of Simple Machines: Cool Projects and Activities That Make Science Fun! by Kelly Doudna. Mighty Media Kids, 2015. 144 pages.
Reading Level: Ages 9-12
Recommended For: Ages 4-12 (and up!)
Most kids learn the six simple machines in elementary school: levers, inclined planes, wedges, screws, wheel and axles, pulleys. But in the guise of a science textbook coupled with homework, their full potential for experiments and cool stuff (not to mention our everyday lives!) often escapes notice. Not so in this book. A brief introduction with spotlights on Archimedes and Gallileo reminds kids what the six simple machines are. Then, each machine gets its own chapter that showcases everyday examples, spotlights a particularly relevant or noteworthy example (like the Ferris Wheel for wheel and axles), and then gives instructions for 5 projects and activities. These aren't just boring science book projects either: a pinball machine, a basic balloon car, an archimedes screw, a roller coaster racetrack, and more! Well-written directions are written to young readers and include supply lists (using mostly ordinary household objects) along with plenty of pictures of the actual product.
This is a must for kids who love to tinker and like to know how things work. Those budding engineers and physicists will curl up with this book, read it, and then demand to head to the nearest hardware store, supply lists in hand. A terrific resource for school and public libraries as well as STEM programs, this is also a book to consider buying if you have young engineers at home.
Cautions: none
Overall Rating: 4.75
Worldview Rating: 4.5
Artistic Rating: 5
More than 75 books for children and teens, all about islands, oceans, and more. Bonus: get a free hand-drawn reading tracker!
Reading Ahead for You
Reviews and Resources Weekly in Your Inbox