The rough, tough world of girls' roller derby is the setting for this surprisingly sweet depiction of friendship, breakup, and change.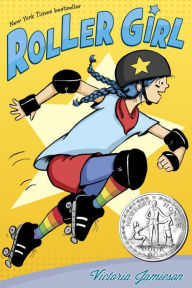 Roller Girl by Victoria Jamieson.  Dial Graphic, 2015, 240 pages
Reading Level: Middle Grades, ages 8-10
Recommended for: ages 10-14
Astrid and Nicole have been best friends since kindergarten, but not necessarily because they like the same things.  Now that they're going into seventh grade their interests are starting to diverge radically, especially after Astrid's mother takes them to a roller derby bout as part of her continuing program to broaden their minds.  Astrid is blown away, but Nicole isn't, and does not want to attend the derby camp her bff signs up for.  Astrid tells her mother Nicole is attending, and keeps up that deception through the first two weeks of camp.  But then mean-girl Rachel has to go and complicate things.
Roller derby is the life-metaphor here: face your fears, stand your ground, play fair and try, try again.  It's a rough sport and I wouldn't want my daughter playing it—it's hard to fit any notion of godly womanhood among girls who jab and slam into each other for fun, while sporting nicknames like Rainbow Bite and Heidi Go Seek.  And yet, the story turns out to be both funny and insightful about friendship, honesty, perseverance, and setting things right when you mess them up.  Also about the pain of growing up and away from close friends.  In spite of certain cautions (see below) there's enough positive value here to read with profit, and even talk to the parents about.  Astrid even encourages discussion:
So take it from me, kids, if you find yourself in hot water with your parents, try talking to them about your 'crazy mixed-up teenage feelings.'  It might just get you out of a jam.
Cautions: Language (one misuse of God's name), Violence (on the rink), Character issues (Astrid's mother doesn't appear to be married and her father is never mentioned)
Overall Rating: 4 (out of 5)
Worldview/moral value: 3.5
Artistic value: 4.5
Support our writers and help keep Redeemed Reader ad-free.