This lively tale combines a fairy-tale plot and likeable characters—even a likeable dragon—with philosophical musings.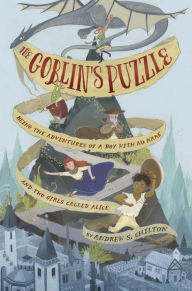 The Goblin's Puzzle: Being the Adventures of a Boy with No Name and Two Girls Called Alice, by Andrew S. Chilton.  Knopf, 2016, 279 pages
Reading Level: Middle Grades, 10-12
Recommended for: ages 10-15
The Boy has nothing, not even a name, when he is tapped to accompany his master's son on a business trip.  Meanwhile, Plain Alice is going about her business when she is seized and carried off by a dragon who mistook her for Princess Alice.  A murder and an encounter with a sarcastic goblin puts the boy on an unexpected track that will—not surprisingly—change his destiny and converge with both Alices.  But will he win the princess?
The goblin gets all the good lines in this clever, good-natured quest tale that puts fatalism on a collision course with heroism and sagacity.  Excellent themes emerge, such as honor in any condition, even lowly servitude.  But with such comes responsibility: "I've only just discovered that I have honor," says the boy.  "If I throw it aside the moment it becomes inconvenient . . .:"  Spoiler alert: he doesn't.  Determinism gets a thorough thrashing: "The past is written in stone, but the future is written in water."  The story lags a bit toward the end when philosophical—though sparkling—dialogue almost swamps it, but readers will enjoy the characters and learn a little logic, too.
Cautions: Worldview (mild; the prevailing religion of the country is some sort of paganism based on demons)
Overall Rating: 4.5 (out of 5)
Worldview/moral value: 4
Artistic value: 5
Categories: Middle Grades, Fantasy, Character Values
Cover image from Barnes & Noble
More than 75 books for children and teens, all about islands, oceans, and more. Bonus: get a free hand-drawn reading tracker!
Reading Ahead for You
Reviews and Resources Weekly in Your Inbox