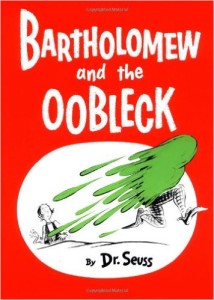 *Bartholomew and the Oobleck by Dr. Seuss. Random House, 1949. 56 pages.
Reading Level: Picture Books, Ages 4-8
Recommended For: Ages 4-8
Bartholomew and the Oobleck is a brilliant example of Theodore Seuss Geisel's delightful use of language with a clear moral that is not heavy handed.
Bartholomew (first introduced in The 500 Hats of Bartholomew Cubbins) serves as a page boy under King Derwin of Didd. One day the King decides he is tired of seeing the rain, sunshine, fog, and snow that come down from the sky every season, and he wants something new. Ignoring sensible Bartholomew's protests, King Derwin asks his magicians to make him something that no king has ever had before. In chanting unison they promise him oobleck, but can't tell him what it will be like, only that it will be…different.
While the magicians brew the oobleck, Bartholomew anxiously waits for the results, knowing that the king's desire to take control of the sky can lead to no good. When morning dawns with a little greenish cloud that drops ever-increasing globs of gooey oobleck over the little town,  Bartholomew is caught between obedience to the king and concern for the people who are threatened by the king's folly.
Most of the story does not rhyme, nor are there strange creatures in it, but it is delightful to read aloud and there is an excellent lesson in humility at the end.
Cautions: Supernatural (magicians make oobleck)
Overall Rating: 5 out of 5  
Worldview Rating: 5 out of 5
Artistic Rating: 5 out of 5
Categories: Picture Books, Starred Review, Classics, Retro Reads, Read Aloud, Character Values,
Cover image from amazon.
*indicates starred review
Support our writers and help keep Redeemed Reader ad-free.