Fort by Cynthia DeFelice. Farrar Strauss Giroux, 2015. 200 pages
Reading Level: Middle Grades, ages 8-10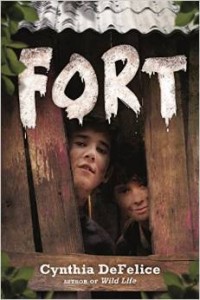 Recommended for: ages 10-12 (especially boys and reluctant readers)
Bottom Line: Sweet-but-rough justice is served up in this boys-only summer tale that pits three losers against two bullies.
Wyatt Jones, age 11, is enjoying the last of his summer break. One reason he looks forward to spending summers with his dad is Dad himself—much more easy-going than Mom, who tends to freak out when she doesn't know exactly where Wyatt is at all times. The other reason is Augie Valerio, the best summer friend ever. When the two boys discover a pile of junk lumber and siding behind Al's garage, they know exactly what to do with it: build their own special hideout in the woods. Unfortunately J.R. and Morrie, who both play on the middle school football team and like nothing better than picking on smaller kids, get wind of the plan, and that always means trouble. But it's their treatment of Gerard, a large, mentally-challenged neighborhood kid, that begins to really get to Wyatt. After some ugly incidents, Wyatt and Augie formulate the perfect revenge plan. But it's complicated, and might not work . . .
They almost don't write books like this anymore.  It's not easy these days for a boy to find a story that's all about boys, and for that alone Fort is worth a look. Wyatt and Augie are decent kids, and I like that their "getting even" with the heavies is not just for their own satisfaction, but for Gerard, who can't defend himself. They even bring him into the plot, in spite of their fears that he might mess everything up. But that's exactly what Gerard needs: to feel like he has something to offer the gang. The revenge the boys cook up goes on a little too long and seems a little too mean (even when you know Morrie and J.R. deserve it); a discussion about "loving your enemies" may be worthwhile. Also, it must be said that Wyatt develops a mild obsession with the ample bosom of Augie's Aunt Hilda. Which, again, is normal for a boy this age, but might need a little parental advisement (see discussion questions).
Cautions: Sensuality (mild)
Overall rating: 3.5 (out of 5)
Worldview/moral rating: 3.5
Artistic rating: 4
Categories: Realistic Fiction, Middle Grades, Character Values, Discussion Points*
*Discussion Questions
• Does the boys' plan to get even with J.R. and Morrie go too far? Why or why not? What does "getting even" mean to you? How about "teach [someone] a lesson"?
• How might Romans 12:19-20 apply to this story?
• Is Wyatt thinking about Aunt Hilda's chest too much? [Mome: It's fine to mention Matthew 5:27-28 in this context, but remember that at this age a boy is more likely to be acutely embarrassed than convicted. Keep it light.]
Please follow and like us: