Ellie's Story: a Dog's Purpose Novel by W. Bruce Cameron. Tom Doherty Associates, 2014. 205 pages, including notes and classroom discussion guide
Reading Level: Middle Grades, ages 8-10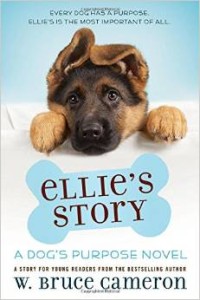 Recommended for: Ages 8-12
Bottom Line: Ellie's Story takes us along with a search and rescue dog as she learns her job and enjoys a successful career.
Ellie is a German shepherd puppy when we meet her, smack in the middle of a squirmy litter of brothers. From her point of view, we discover the delights of warm milk and cool water and the first sniffs of Outside, where she bites the grass to show it who's boss. She's only half-grown when Jakob comes, and after playing with her for a while he says, "I'll take this one."  Ellie's next adventure is a ride in a truck and introduction to a strange place.
Jakob isn't just looking for companionship; he's part of a K-9 unit that specializes in search and rescue. Ellie quickly learns that her life is Work and her Work is to Find and Show. She is not only bright, she also has an exceptionally sensitive nose. Her greatest feat is tracking an abducted little girl after the kidnapper has taken her by car to an abandoned shack in the woods. But Ellie is sensitive to her humans' emotional state as well, and through her we see their stories unfold.
Dog-lovers will love Ellie—her big-hearted desire to please, her pleasure in Work. Humans should be so blessed, to know their purpose and fulfill it. The author's popular novel for grownups, A Dog's Purpose, followed one doggy soul through several reincarnations. For Ellie's story, thankfully, he focuses on just one. The prose is engaging but the stark black-and-white illustrations are a little creepy.
Cautions: None
Overall Rating: 4 (out of 5)
Worldview/moral value: 3.5
Artistic value: 4
Categories: Middle Grades, Animal Stories
Reading Ahead for You
Reviews and Resources Weekly in Your Inbox