Wilder Boys by Brandon Wallace. Aladdin, 2015. 220 pages
Reading Level: Middle Grades, ages 10-12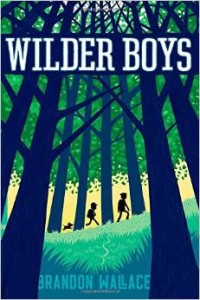 Recommended for: ages 10-14 (especially boys)
Bottom Line: Questionable premises aside, Wilder Boys is a fast-paced adventure novel for middle-graders and reluctant readers.
Jake, 13, and his younger brother Taylor are looking forward to summer break—or would be, if it weren't for the ever-present bane of their existence. This is their mother's "boyfriend," known only, and appropriately as "Bull." He's a brute, possibly a criminal, and there's no earthly reason why the boys' mother should have anything to do with him, especially now that she's a slave to pills and depression. Things go from merely bad to really bad when the boys find a gun and a stash of cash hidden in their house; Bull's drug-dealing has put them all in danger. Pushed to desperation, Jake and Taylor grab some of the money and run for their lives, hoping to find their dad somewhere in Wyoming. Hopping a freight train, hitching a ride with a sympathetic truck driver, and making their own way in the wilderness provide plenty of thrills, building up to a death-defying climax.
The whole premise is a little shaky: I'm not buying that a father who cares about his kids would leave them to chase his mountain-man dream, or a that mom who seems basically decent and loving would hide his letters from his sons and put up with a creep. But if a reader doesn't think too hard about characters and motivations, this makes a rousing adventure tale with no bad language and plenty of wilderness wildlife and lore. Some nice touches, too: the boys are helped immeasurably by Sharon, a husky female truck driver who gives them a lift and buys them a meal and explains how Jesus turned her wretched life around. Later, when Jake sends up a foxhole prayer, he doesn't know who or what he's praying to—but maybe it's a start.
Cautions: Non-graphic violence
Overall rating: 3.5 (out of 5)
Worldview/moral value: 3.5
Artistic value: 3.5
Categories: Middle grades, Adventure, Character Values, Reluctant Readers
More than 75 books for children and teens, all about islands, oceans, and more. Bonus: get a free hand-drawn reading tracker!
Reading Ahead for You
Reviews and Resources Weekly in Your Inbox