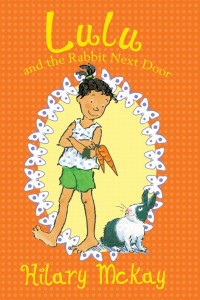 *Lulu and the Rabbit Next Door by Hilary McKay, illustrated by Priscilla Lamont. Albert Whitman and Co., 2014. 91 pages.
Reading Level: Chapter Books, ages 4-8
Bottom Line: Lulu and her cousin Mellie use kindness and creativity to win over their enemy—the new boy next door—in this delightful chapter book.
Lulu is a true animal lover; her new neighbor Arthur is not. Lulu has quite the menagerie at her house; Arthur has one lonely rabbit. When Lulu and her cousin Mellie try to encourage Arthur to take better care of his rabbit George, they are met with outright hostility. Arthur would much rather be playing his Xbox. Plans to win over Arthur, or at least rescue George from rabbit boredom, range from rabbit-napping George to kid-napping Arthur himself! Then one week, Arthur asks Lulu to pet-sit for George while Arthur's family is on vacation. When Arthur returns and takes George back home, Lulu's rabbit Thumper begins sending George little rabbit presents and notes! Lulu and Mellie keep up the charade with great results: their kindness and creativity begin to crack Arthur's tough shell. He discovers that animals are wonderfully interesting little creatures, that Lulu and Mellie are great friends, and that he can even return the favor.
The gentle reminder in this book that kindness is the way to treat our enemies is not a preachy one. Rather, McKay's use of humor and skillful characterization and Lamont's delightful illustrations will draw young readers into the story itself. An outstanding example of a chapter book that celebrates childlikeness, this is also a welcome example of how to treat bullies and "meanies" without giving in to their same actions and attitudes.
Information About the Series: The Lulu books form a noteworthy chapter book series: tightly written with just the right ratio of words to pictures. Great characterization, good plot resolution, and solid relationships make these books winners. Lulu is resourceful, childlike, concerned about animals, and struggles with obeying her parents. She is close with her parents and also with her cousin Mellie. The books each feature an animal-related adventure in which Lulu is trying to save an animal with her cousin Mellie's help. Humor, early-elementary-level adventure, and consequences for Lulu's actions (both responsible and irresponsible) make these books a perfect fit for young readers transitioning from the easy reader stage to longer chapter books. Illustrations are well done and add to the story. Both boys and girls will enjoy these, but young girls who have a bleeding heart for animal rescue will especially enjoy them. Don't miss the other titles in the series: Lulu and the Duck in the Park, Lulu and the Dog from the Sea, Lulu and the Cat in the Bag, Lulu and the Hedgehog in the Rain
Cautions: none
Overall Rating: 5 (out of 5)
Worldview Rating: 5
Artistic Rating: 5
Categories: Multicultural, Chapter Books, Starred Review, Animals
Cover image from Amazon

Support our writers and help keep Redeemed Reader ad-free.