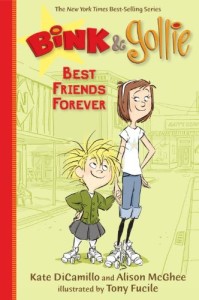 Bink and Gollie: Best Friends Forever by Kate DiCamillo and Alison McGhee, illustrated by Tony Fucile. Candlewick, 2013. 80 pages.
Reading Level: Chapter Books, ages 4-8 and 8-10
Bink and Gollie are best friends. Like so many easy reader best friends, they are opposites on the surface and continuously overcome their differences to form a dynamic team. Bink is short, loves peanut butter, and is very crafty. Gollie is tall, regal, and strives for glory. Each book in the series features three stories about the two friends that together form a complete narrative start to finish.  In this volume, Gollie discovers she is royalty (Bink is unimpressed), Bink orders a Stretch-o-Matic to grow taller (Gollie helps save the day), and the two friends invent an ingenious way to get their picture into a world records book.
A strong suit of these books is simply the well-rounded picture of childlike friendship consistently demonstrated by these two quirky friends. Text and illustrations work seamlessly together, the illustrations filling out details in the storyline marvelously. Text is quite minimal, but the vocabulary is harder than most easy readers; they are commonly shelved in the juvenile fiction section of the library. These are a great fit for kids who are bored with regular easy reader fare or who are ready for harder vocabulary but not quite ready for longer books.
Cautions: none
Overall Rating: 4.5 (out of 5)
Worldview Rating: 4
Artistic Rating: 5
Categories: Chapter Books, Easy Readers, 4 stars and up, Character Values, Humor
Cover image from Amazon

More than 75 books for children and teens, all about islands, oceans, and more. Bonus: get a free hand-drawn reading tracker!
Reading Ahead for You
Reviews and Resources Weekly in Your Inbox