Absolutely Truly by Heather Vogel Frederick. Simon & Shuster, cheap 2014. 354 pages.
Reading Level: Middle Grades, ed ages 10-12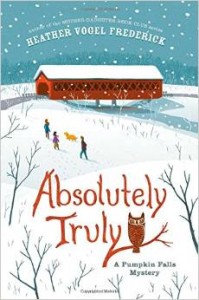 Recommended For: ages 10-12 and up
Bottom Line: Absolutely Truly begins a fun and wholesome mystery series for middle graders set in Pumpkin Falls, New Hampshire.
If you live in Austin, Texas, where the sun is hot and the music is cool and your cousin is your best friend, it's a body-slam to be told you're moving to Pumpkin Falls, New Hampshire (seriously!) with your parents and four siblings. In January, no less. That's the predicament Truly Lovejoy finds herself in at the beginning of this story—plus, she's approaching the awkward age of 13 with the still-more-awkward height of six feet (almost). Plus, the reason for the move to Pumpkin Falls is so her dad and his sister can manage the family bookstore, and the only reason he's free to do that it because he lost his arm in an IED explosion in Afghanistan. This ended his post-military plans to become a commercial pilot, and he's not happy about any of it. Neither is Truly, but the town turns out to have some advantages, including new friends, quirky characters, and a mystery related to the note she finds in an autographed, first-edition copy of Charlotte's Web. When the book goes missing, things get even more interesting.
If Pumpkin Falls reminds the reader of Bedford Falls, that's understandable. An It's a Wonderful Life sweetness broods over the chilly atmosphere as characters meet and clash and eventually come together with community spirit—including the seventh-grade bully. "A community is like a family," Truly's aunt reminds us, "and every family has a few odd ducks. The important thing to remember is that they're still family." The mystery has literary connections (this is the author of the Mother-Daughter Book Club series), and the intuition needed to grasp the meaning of the clues seems a little far-fetched at times. Truly's voice sometimes sounds like a middle-grader of the fifties rather than today, but these are small objections to a fun read.
Cautions: None
Overall Value: 4 (out of 5)
Moral/worldview value: 4.5
Artistic value: 3.75
Categories: Realistic Fiction, Mystery, Middle Grades, Literature
Cover image from Amazon 

Reading Ahead for You
Reviews and Resources Weekly in Your Inbox