I am a college student.  I am also an avid reader.  As I talk to fellow students, I have realized that it is a rarity to read for pleasure.
Some students talk about books and how they used to like reading.  How they don't have time any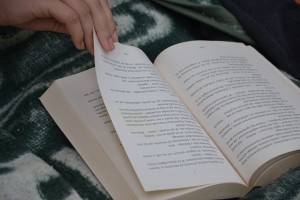 more.  Their time is consumed with reading-for-school, and homework, and regular work.  In their spare time they hang out, watch movies, go shopping…  Life is filled with busyness, and for many, pleasure reading has fallen by the wayside.
I understand the temptation to cut pleasure reading out of your schedule, but here are five reasons why college students should bring pleasure reading back into their lives:
1.  It can take up as much, or as little, time as you want.  
Adding reading to your schedule does not mean neglecting other responsibilities.  Sometimes I spend several hours reading because I am a bookworm.  Sometimes it is just a short story (usually P. G. Wodehouse) before turning off the light.  If you feel like short stories with a more serious twist, Elizabeth Goudge is another favorite British author, while Dorothy Sayers spins superb short mysteries.
As students who once enjoyed reading describe their busy, stressful lives, I want to encourage them.  "Pick up a book!"  Especially because…          
2.  It's a great way to unwind, and it's healthy. 
As an introvert, I have come to love reading at the end of a busy day.  It is my intentional time to relax and recharge.  (Interestingly, reading is a quicker de-stresser than even a cup of tea!)
If you're really in need of some comfort reading at the end of a crazy day, pick up an old favorite, poetry, or something written for younger readers.  Jane Austen is wonderful, so is Robert Frost, yet I love sitting down to chuckle through one of Eva Ibbotson's whimsical adventures.
Research shows using your cell phone to read, or even an e-reader, before going to bed has adverse affects on sleep.  So, how about substituting that final Facebook scrolling for a real book?
3.  It provides a way to engage with popular culture.     
Reading for pleasure does not mean reading without discernment.  It can, and should, be redemptive reading.  Without abandoning discernment (see Redeemed Reader's coverage of Fifty Shades of Grey), there are many books worth reading that will help you to understand and engage with culture.  Reading popular dystopian series such as The Hunger Games and Divergent are an example of this type of engagement.
4.  It expands your understanding of the world. 
Pleasure reading does not only mean reading fiction.  As you read, try new genres.  Branch out and expand; find a book reviewer you trust and pick up a book you usually would not read.
A well-written book on history can be just as interesting and engaging as fiction with the bonus that it really happened.  Not only that, reading books on history will increase your own appreciation and understanding of history.  If you enjoy World War II or aviation, A Higher Call by Adam Makos with Larry Alexander follows the lives of two men and relates a remarkable encounter over Germany during World War II.
5.  It provides endless topics for conversations.
Reading popular books, history, and other nonfiction provides a ready source of conversation.   Dystopia, the Battle of Hastings, or the economics behind good food are all interesting topics for conversation.  Well, maybe not the Battle of Hastings, but a history fanatic might insist.  As for economics and food, read An Economist Gets Lunch by Tyler Cowen; it's fascinating.
Man's primary purpose is to glorify God and enjoy him forever.  One of our God-given enjoyments can be reading.  Don't let college stop you.  When the homework is done, and you have a minute…pick up a good book!
More than 75 books for children and teens, all about islands, oceans, and more. Bonus: get a free hand-drawn reading tracker!
Reading Ahead for You
Reviews and Resources Weekly in Your Inbox