Nuts to You, by Lynne Rae Perkins. Greenwillow, 2014. 259 pages.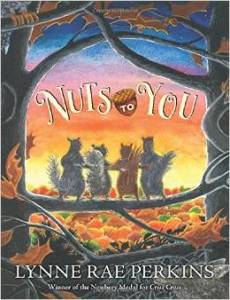 Reading Level: Middle Grades, ages 8-10
Maturity Level: 3 (ages 8-10)
One-line Summary: Nuts to You is a charming animal fantasy for younger middle-graders to read alone, or for the whole family to read aloud.
So…one day the author took her lunch to a local park and ended up sharing it with a talkative squirrel who liked peanut butter. Peanut butter reminded the little rodent of a true story, which he proceeded to relate with a formal introduction: Amid the thick and intertwining boughs, among the limbs, branches and leafy twigs of our grove, the buzzpaths ran…  Hence this book, illustrated by the author.
Squirrels lead surprisingly adventurous lives, and this adventure begins with Jed (our narrator) being picked up and carried away by a hawk. Fortunately he remembers some survival tactics, and just as fortunately his friends Chai and TsTs don't give up on him. Finding their way back to the nest and saving the colony is the spine of the story, but we also get to immerse ourselves in squirrel culture, diversity, and diet. And high time, I say. There's much to like here—whimsy, personality, excitement and danger, served up with wit and charm. And it's a great read-aloud, especially if everyone is gathered close enough to see the pictures. Squirrels understand storytelling: Everyone listens together and laughs together and it makes us feel closer. It makes us feel like family.
Cautions: none
Overall value: 5 (out of 5)
Moral/worldview value: 4
Artistic value: 5
Categories: Fantasy, Middle Grades, Starred Review, Read-Alouds, Gift Books
Cover image from Amazon.

More than 75 books for children and teens, all about islands, oceans, and more. Bonus: get a free hand-drawn reading tracker!
Reading Ahead for You
Reviews and Resources Weekly in Your Inbox