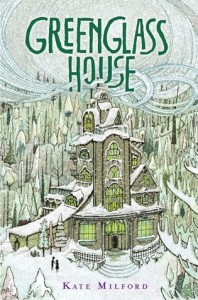 Greenglass House by Kate Milford. Clarion, 2014, 384 pages.
Reading Level: Middle grades (ages 10-12)
Maturity Level: Level 4 (10 and up)
The Greenglass House is an old inn set on a remote cliff near a smuggler's cove and is run by Milo (an adopted boy of Asian heritage) and his parents. And in Greenglass House, one snowy Christmas vacation, a series of crimes is committed…by someone within the house. Greenglass House takes the trope of crime-committed-by-someone-in-the-house (i.e. The Westing Game) and adds emotional heft, a complex backstory, a ghost, and adoption issues to the mix.
When the story opens, Milo's family is anticipating a nice, calm, Christmas vacation free of the usual guests that frequent their old inn. A magnificent winter storm and the arrival of not just one intrepid traveler, but multiple reclusive guests, sets the intricate story in motion. Shortly after the odd new guests have all been housed, a crime in triplicate is committed, Milo makes a new friend, and a young detective team is born.
Milford excels in creating many different, memorable characters in this tale. Her use of Milo's parents is refreshing—they are present and clearly love him even though the story centers on Milo. (Many middle grade novels remove parents somehow or cast them in an antagonistic role.) Milo learns to appreciate his own unique gifts and to embrace his dual parentage (including the many unknowns about his birth parents). Some of the characters' secrets result in happy endings, and all the characters end up having their personal quests resolved.
While there is much to recommend this tale, there are a couple of issues to note. First, Milo and his new friend Meddy engage in a role-playing game ("Odd Trails") throughout the story. Milford leverages this in a truly inspiring way, showing how Milo in particular comes out of his shell and begins to embrace his distinctive abilities. The game is not sinister, but some readers may wish to know about the role-playing element in advance.
Second, (SPOILER ALERT) one of the main characters turns out to be a ghost. The construct of the story from the get-go is unrealistic fantasy, so the inclusion of this ghost isn't particularly sinister or otherworldly. Rather, it is in keeping with the feel of this mystery set in a very old inn with secrets of its own. Still, any presence of the paranormal invites us to use extra caution, and some families may want to skip the book for this reason.
Overall Rating: 4 (out of 5)
Artistic Rating: 5
Worldview Rating: 4
Cautions: Supernatural (ghost)
Recommended Use: Entertainment, Independent Read
Categories: Fiction, Speculative Fiction, Mystery, Middle Grades, Life Issues (Adoption)
cover image thanks to goodreads; thanks to publisher for book via netgalley in return for an unbiased review.
Reading Ahead for You
Reviews and Resources Weekly in Your Inbox