Eye: How it Works by David Macaulay. David Macaulay Studio, 2013. 32 pages.
Reading Level: Easy/Leveled Reader, ages 4-8
Maturity Level: 2 (ages 4-8) and up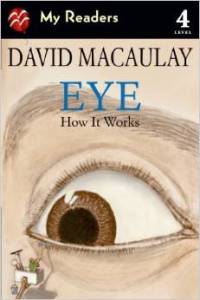 David Macaulay, a master of detailed drawings and demonstrative descriptions, has created a series called My Reader. Known for his award-winning books, including The New Way Things Work and architectural studies such as Castle and Cathedral, Macaulay introduces emerging readers to fascinating objects at their level of interest. Eye uses the context of a soccer game to show the complexity of just one amazing organ in our bodies, the anatomical functions and how they work together, and the modern medical adjustments we make when those organs do not function perfectly (in this case, corrective lenses). Macaulay's illustrations are not merely scientific in their details; he sprinkles both his text and illustrations with bits of humor and communicates such biological concepts as the placement of eye muscles in cartoon-style illustrations. Eye: How it Works and the rest of the titles in this series are ones to note for your new readers for their combination of interesting topics, well-written text, and perfect illustrations.
Cautions: none
Overall Value: 4 (out of 5)
Moral/Worldview Value: 4
Literary Value: 4
Categories: Easy/Leveled Readers, Education, Nonfiction, Biology
Cover image from
amazon
More than 75 books for children and teens, all about islands, oceans, and more. Bonus: get a free hand-drawn reading tracker!
Reading Ahead for You
Reviews and Resources Weekly in Your Inbox