Reviewing School Book Lists: Part One. Part Two. Part Three. Part Four. 

(SUICIDE LIFELINE: 1-800-273-8255)
Death of a Son
On Monday morning, rumors swirled at Westwood High School that Nathan Austin, a senior, had died. Perhaps even taken his own life. Several teachers hurried to the principal's office to find out the truth and put such rumors to rest. Surely that's all these were—unfounded rumors.
Nathan earned the nickname "Tigger" from his friends and family for his ebullient personality. He was also an excellent student. Homeschooled until 7th grade using a mostly literature-based curriculum (Horizons), Nathan missed being a National Merit Scholar by only 1 point. Yet his book-learning had not left him uncaring or distant. Besides his friends and family who considered him exceptionally compassionate, two teachers claimed that he saved their careers by leading other students to accept them.
The reality that April morning, however, was that Nathan's father, Paul, had found Nathan unconscious in his room. After nearly an hour of trying to resuscitate Nathan, the awful truth began to set in. His son was gone. And as he and his wife walked through the next few days, weeks, months, the obvious question for Paul has been, "Why?"
The answers, of course, have not been simple. As Jill Harkavy-Friedman of the American Foundation for Suicide Prevention (AFSP) explained to me in an interview last July, people don't usually commit suicide for one or two reasons. There is usually a convergence of many factors, including two which are critical in pushing someone over the edge: 1) exposure to how-to information and 2) a trigger.
And while factors like Nathan's grandmother's death undoubtedly played a part, Paul Austin believes his son may have gotten both the how-to information and trigger from his AP English course.
AP English Literature's Role
I will post the entire list of books eventually so that you can judge for yourself the cumulative effect of those books. For now, let's look at these two critical factors. First, the how-to information. The summer before 12th grade, Nathan was assigned to read Arthur Miller's play, The Death of a Salesman. In his list of questions to answer about the book, Nathan was asked to answer, "What hidden object has Linda recently discovered and why does it concern her?"
Since the story implies that the father commits suicide, in order to answer the question, Nathan likely searched out information on how the object might have been used for that purpose. Given that Nathan later used a variation of that method himself, it is very possible that while doing his homework assignment, Nathan found the how-to information for his own suicide.
It's worth noting that the book did not have to be studied this way. Instead of asking kids to research on their own time how certain objects might be used for suicide, that information might have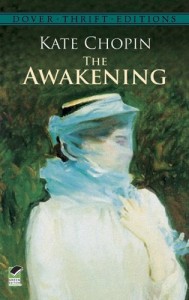 been presented in class with limited detail.
Second, concerning the trigger, as best his parents have been able to piece together, the last book that Nathan read was The Awakening by Kate Chopin. At the end of this book, a woman decides that suicide is her best option and the reader follows the character as she drowns herself. In this case, as in The Death of a Salesman, the author does not call to mind all the people the woman leaves behind, all the people she is hurting. Chopin doesn't show other options that the woman might have taken. Romanticizing the act and not putting suicide in its full context (including the pain felt by those left behind) are critical risk factors for copycat deaths.
Harkavy-Friedman pointed out in our interview that teachers don't have to ban these books–they can often bring a bigger perspective to the conversation themselves, even if an author doesn't. They can hand out suicide lifeline numbers, and remind teens that suicide isn't a romantic answer to life's problems.  The school can also host a More Than Sad training program to help bring awareness to faculty and students.
In Nathan's case, however, his parents have no indication that his teacher provided such perspective.
Who Is Affected?
Since Robin Williams' death, USA Today reports that calls to crisis centers have surged. In fact, the National Suicide Prevention Lifeline they received more calls the day after Williams' death than ever before in their history.  (The official number was 7,500 calls, though that doesn't include potentially eight times that many calls received at local call centers.) That won't surprise anyone who is familiar with the history of suicide. Reading and hearing stories about suicide—whether journalistic stories or books read in the classroom—has been well-documented to cause copycats or "suicide contagion." As early as 1774, the phenomenon was originally called the Werther effect after a character in a Goethe novel.
Why then do schools like Nathan's ignore the problem?  One reason may be that society simply does not realize how many teens are at risk. Among teens like Nathan, suicide is the third leading cause of death. A 2011 study by the Center for Disease Control (CDC) showed that 15.8% of students in grades 9-12 had seriously considered suicide in the previous 12 months. And for every 1 who succeeds, over 100-200 more teens attempt to take their lives. (CDC Suicide Factsheet)
Clearly most teens who read stories about suicide do not take their own lives. But with more than 100 people taking their lives every day in America, Nathan's experience isn't an isolated incident. And stories and other media clearly have a significant impact.
What Some Writers Are Doing
Among journalists, there have been a number of studies showing up to an 80% decrease in copycat suicides when journalists follow certain guidelines. Those include not revealing specifics of how-to information, not romanticizing the person's death, and providing crisis center hotline numbers within their pieces. (Here is a link to journalistic guidelines.)
In terms of the challenges posed by literature, Harkavy-Friedman is positive about the impact their training programs are making in school literature classes, as well as the in-roads they are making with publishers and authors. Even big-name authors like James Patterson are working with her organization for advice on how to write about suicide in a more responsible way.
SUICIDE LIFELINE: 1-800-273-8255 One School's Response
Last spring, Paul Austin and his wife Karen sat down with their son's former school administrators and teachers, hoping to share some of their discoveries. Both Paul and Karen are on good terms with the school and have no ill feelings toward the faculty. They say that books and teachers didn't kill their son, mental illness did. But they hoped something could be done in Westwood High School to help other teens who may face the same challenges their son faced.
While Paul worries the books his son studied were overly depressing, he did not ask for books to be changed during their meeting. He believed that would shut down conversation and label him a book banner.
Instead, he and Karen asked for the school to look into changing the presentation of the books. Paul and Karen brought up the possibility of mental health screenings for kids in the AP English class, much like the school requires physical check ups for kids who play football. If nothing else, they hoped that training might be given to faculty or warning statements given to parents and teachers to help them identify struggling kids.
Yet all of these suggestions were met with a shrug. While clearly the teachers and administrators cared about Nathan and his family, they did not believe his death merited any changes to their school curriculum or policies.
Why Not?
Why were teachers so shocked by Nathan's death? And why are those same teachers and administrators so resistant to taking simple, common-sense steps to protect other kids?  Like Paul Austin's original question as to why his son would commit suicide, these questions aren't simple either.  But I do hope to attempt an answer in upcoming posts.
Until then, I would love to hear your thoughts on this topic. Are you as a parent or  are the teachers and administrators in your area aware of the connection between literature and suicide? Why or why not? What do you think are some of the stumbling blocks to making adults aware of these challenges?
Support our writers and help keep Redeemed Reader ad-free.