As Christians we are called to practice so many forms of love besides the romantic kind. Themes for Valentine's Day can be broadened to emphasize kindness in all kinds of human relationships, from friendly to intimate. Whether or not chocolate is involved, it is worth taking time to enjoy expressing the unique gift of love that we could not have if God had not loved us first!
Here are some sweet, beautifully illustrated picture books for you to share with someone you love, along with a box of chocolates:
Somebody Loves You, Mr. Hatch by Eileen Spinelli, pictures by Paul Yalowitz. Aladdin Paperbacks, 2006.
Mr. Hatch keeps to himself and his days are monotonous. One day a large heart-shaped box of chocolates is delivered to his door with a note from a secret admirer, and Mr. Hatch is transformed. He finds all kinds of ways to show kindness to others, even though he still doesn't know who sent the valentine. Then a problem arises. This is a well-told tale about loving your neighbor with illustrations that reflect the emotions of the story beautifully.
The Ballad of Valentine by Alison Jackson, illustrated by Tricia Tusa. Dutton Children's Books, 2002.
A bespectacled, shy admirer of his pompadoured neighbor tries in vain to tell her how ardently he admires and loves her, but his every effort goes awry. He tries letters, homing pigeon, smoke signals, pony express, telegram, and more, but the message never seems to get through…still, his love is not in vain! The ending is so sweet I can't spoil it for you, so do find it if you can. If you know the tune to the original Ballad of Clementine, then by all means, serenade the book to your sweetheart! The illustrations are delightful.
A Kiss for Little Bear by Else Holmelund Minrik, illustrations by Maurice Sendak. HarperCollins, 1984.
Little Bear draws a picture for his grandparents and gives it to Hen to deliver. Hen is given a kiss in return and instructed to give the kiss to Little Bear. However, the messenger soon tires of her errand-running and passes the kiss along to someone else, who gets sidetracked and gives it to someone else, and so on. (The best part is when it gets to the skunks.) Although Hen finally objects to "Too much kissing!" it is all eventually sorted out and everyone lives happily ever after.
A rabbit named Jasper loves his wife Lily, and goes out looking for a gift to please her on Valentine's Day. (The first thing he tries is knitting, much to my delight!) After a long trek to visit all his neighbors, he still has nothing suitable to offer and arrives home cold, wet and discouraged. To his surprise he finds that his efforts were not in vain after all.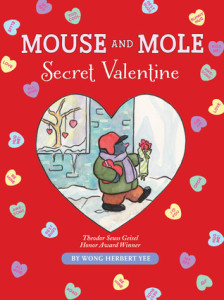 Mouse and Mole: Secret Valentine by Wong Herbert Yee. Houghton Mifflin, 2013.
Like A Kiss for Little Bear, Mouse and Mole: Secret Valentine is an easy reader. Mouse (a girl) and Mole (a boy) are best friends, and this is their seventh book. The series is charming and reminiscent of Frog and Toad in many ways. Sweet gestures of friendship, corrected misunderstandings, teamwork–all combine to make this an easy reader series to seek out. In this latest installment, Mole is a "Secret Valentine" for Mouse, and she doesn't figure it out until the end of the book. There is a dance at the end, but all their friends are there, and the "romance" is early elementary-friendly. Two things of note for this latest volume: there are directions for making your own valentines at the end! And, the feelings Mouse and Mole have for each other are described as butterflies. Love? Not necessarily, but some parents may wish their young children to wait on this volume if they are trying to downplay such emphases on Valentine's Day. The rest of the series is also highly recommended but some may wish to skip the volume about Halloween and one that is about a magic show. Thanks to the publisher for a review copy!
What other books do you recommend? And what is the best kind of dark chocolate to consume while snuggling?
More than 75 books for children and teens, all about islands, oceans, and more. Bonus: get a free hand-drawn reading tracker!
Reading Ahead for You
Reviews and Resources Weekly in Your Inbox