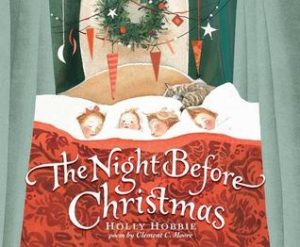 Many of our cultural Christmas celebrations are just that–cultural, not biblical. That being said, we can be Christians and still enjoy many of our cultural celebrations for what they are: cultural celebrations. No doubt, our regular readers here are investing time and energy to teach the real Christmas story. And, no doubt, many of you also enjoy watching such cultural touchstones as It's a Wonderful Life or White Christmas. Below are some picture book equivalents of Christmas-y cultural touchstones.
The Night Before Christmas by Clement Moore and illustrated by Holly Hobbie. Little, Brown, and Co., 2013. Age/interest level: 0-5.
Holly Hobbie brings her gentle, classic style and a fresh interpretation of this famous poem to bear in a lovely new Christmas book. While the text is the same, her illustrations add a new character to witness the jolly old Saint Nicholas coming down the chimney. Charming and sweet, this is a picture book to seek out amidst the glossy, sparkly ones that also grace store shelves.
The Year of the Perfect Christmas Tree: An Appalachian Story by Gloria Houston and illustrated by Barbara Cooney. Puffin, 1996. Age/interest level: 4 and up.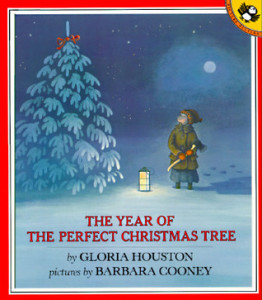 Cooney's quiet illustrations are the perfect match for this poignant Christmas story. Set in WWII-era Appalachia, a young girl and her mother anxiously await the father's return home from war. After all, it's their family's year to provide the town's Christmas tree. Christmas Eve arrives, but the father hasn't. A storyteller's cadence makes this book a great read aloud choice, and the ending will add a nostalgic tear or two to some cheeks. Highly recommended.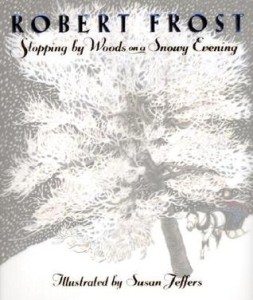 Stopping By Woods on a Snowy Evening by Robert Frost and illustrated by Susan Jeffers. Dutton, 2001. Age/interest level: all
This familiar poem takes on a new meaning in Jeffers' capable hands. Black and white illustrations are well done; the spark of color at the end gives the poem a Christmas-y allusion (cultural Christmas, not biblical Christmas). Try this for a change this Christmas season!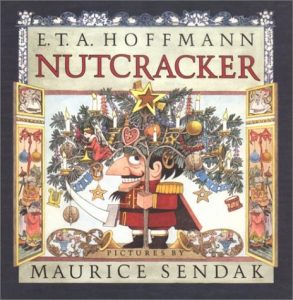 The Nutcracker by E.T.A. Hoffman and illustrated by Maurice Sendak. Gramercy, 1984. Age/interest level: 5 and up.
This is a hefty "picture book," and it is marvelous. Fans of the story and ballet will enjoy seeing Sendak's interpretation; this is also a great option for those who might not want to sit through the entire ballet but want to experience the entire story nonetheless.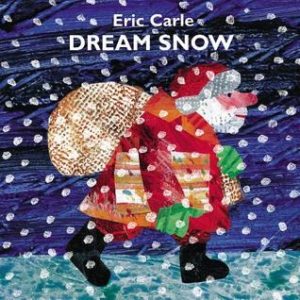 Dream Snow by Eric Carle. Philomel, 2000. Age/interest level: 0-5.
Carle's illustrations aren't exactly "classic" in the same way that Cooney's or Hobbie's are, but they are beloved by many. Dream Snow is a fun, interactive journey with lovable farm animals and a dream of snow. Carle's boldly oolored collage style is a favorite with young children!
What are some of your favorite secular Christmas picture books? Do you wrap up Christmas books for children to unwrap throughout the season? Store them away with the Christmas decorations so they are only out on the table at this time of year (that's what I do!)?
Cover images from goodreads
Please follow and like us: