Hope you all had a wonderful Thanksgiving!  I suppose the Christmas race has officially begun now, and with that in mind, I wanted to share with you an advent devotional my kids and I will be doing this year.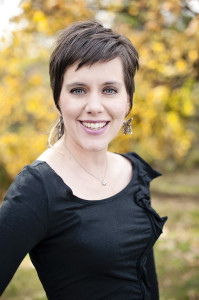 I know that there are many worthy Advent studies.  (For instance, I just saw this one over at Frugal Fun for Boys, a wonderful site for crafty families.)  But we decided a while back that this year we'd try Truth in the Tinsel by ohAmanda.  (The site and book were created by Amanda White, at right.)  For one thing, it's very focused on God's Word–not just a summary or paraphrasing of it.  And then of course, the study is also very hands on, with instructions for making a Christmas ornament each day from Dec. 1 through Dec 24.
If you're looking for your own advent study, here's how this one works: Each day's activities begin with a Scripture reading.  Then, simple instructions plus snazzy how-to pictures help your kids create the ornament for that day.  Thankfully, these aren't ornaments for which you'll need to camp-out at Hobby Lobby to find all the parts.  Most of them can be created with things you already have around your house–tape, glue, construction paper, etc.  (There is also a supply list for the entire month at the beginning, though, if you'd like to stock up beforehand.)  While you're making the craft (or afterwards!), you can use the conversation prompts to help your kids think through the day's Scripture reading–and to share some of your own spiritual journey.  And after all that, if you still need more stimulation, there's an optional "Do More Together" section with simple games you can play to reinforce the lesson.
Thankfully, Amanda agreed to share a little more about the study and what it's meant to her family and others.  Here's what she had to say in a conversation we had recently:
1. Tell us a little about how you got the idea for Truth in the Tinsel.  What makes it different from other family-based advent traditions?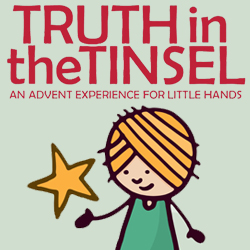 It started when my daughter was almost 2.  I had a little advent book we tried to do.  It was full of flaps and little devotions, and the first day we were to make an ornament.  She LOVED it and wanted to do it every single day even when the book didn't call for it!  We finally abandoned the book and just made ornaments from the Christmas story in the Bible every day.  I could not believe at barely 2 years old the amount of detail she could remember and the focus she was having on the story of Jesus' birth.  It snowballed from that year and here we are!
I think what's different about Truth in the Tinsel is that it was an organic experience in my home.  I didn't try to write an advent book to write an advent book.  It works because I've  really done it for years!
2.  What is the targeted age-range for the book?  Any ideas on how it could be adapted for families with older kids?
Well, like I said, I started doing this with my daughter when she was almost 2.  When I released the ebook she was 5 and loves it just as much as she did the first time.  I've also known families with teenagers who enjoy the book.  So, I think it's a very family-oriented book, good for all ages!  I think, as with any tradition, it grows with your kids.  You have harder conversations, you make better crafts (*grin*) and older kids can teach and help younger kids.
3.  Most of the crafts in this book are made with inexpensive materials that families will already have around the house.  Was that purposeful on your part?  Do you think the crafts here can still be family keepsakes?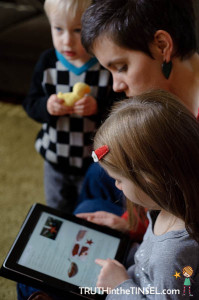 Yes!  My goal in the ebook (and on my blog, ohAmanda.com) is to empower parents to teach their kids about Jesus.  You do not have to be a Children's Pastor, a Sunday School teacher, or a professional ministry person to teach your kids about God's Word!  I wanted the crafts to be out of different mediums (even if they are very basic!) to keep every day new and exciting but easy enough that anyone can do it (and switch it up if need be).  And yes, I love to keep our ornaments year after year!  I love seeing how the kids grow through their crafting.  : )
4.  How did you choose the Bible reading selections?  What was your theological or story focus?
It doesn't sound very spiritual but I just read through all the New Testament passages and looked for words, phrases and ideas that were very concrete.  I also wanted to incorporate things the kids are already hearing about–manger, stable, etc.  We make a stable ornament even though that word is not specifically used in the Bible–but I love that because it gets the kids paying attention to the real words in Scripture, not just a pretend story they heard somewhere.
Along with those concrete details, I knew I wanted to end the devotional with the cross.  Because if kids only know that Jesus was a baby, they miss the whole thing!  The story of Jesus's birth is just the beginning!  So since we end with the cross, I knew I had to start with a prophecy of Jesus' birth.  I want families to see the plan that God has always had.  The Christmas story isn't an isolated event but a huge, long-term plan to rescue us and have a relationship with us!
5.  December is a crazy time of year already.  Why do you think something like Truth in the Tinsel is worth making room for in our busy schedules?
That's exactly why Truth in the Tinsel is worth it–because December is crazy.  December and American Christmas seems to fill up our schedules and lives and yes, hearts, even before Thanksgiving.  I know I have to purpose in my heart to focus on the the Lord every day, and that's especially true on busy, hectic days.  So, Truth in the Tinsel is like a date with the Lord during Christmastime.  And isn't that what we really want?  To lead our kids to Jesus?  To spend the celebration of His birth actually celebrating Him?!  I just really believe that if we give our kids these 24 days of December, we will see our kids giving themselves to Jesus!
6.  Do you have any particularly special memories from Truth in the Tinsel with your own kids?  What do you think is the most important part of the study?
What's special to me is how much they love it the rest of the year.  They mention it every once in a while, then they are jumping up and down thinking about it in November.  They are excited to re-read the same passages, make the same crafts because of the lovely memories they have from the year before.  Not that our time is super-spiritual or so amazingly beautiful.  But I believe God's Word is alive and when we spend time focusing on it, God moves in them and speaks to them in their small, childlike hearts.
I don't mean to overstate the impact of Truth in the Tinsel.  It's not Truth in the Tinsel–it's the purposeful focus on God and His Word!  God is ready and waiting to pour into our hearts!
Amanda White is a stay-at-home mom of two who blogs at ohAmanda.com and is the author of Truth in the Tinsel: An Advent Experience for Little Hands. In her former life, Amanda was a Children's Pastor — overseeing, organizing and developing ministry for kids in nursery through middle school, but now that she is a mom, her "skills" are used up on her kids!
Thanks so much, ohAmanda!  Such a treat to be able to share this ebook with our readers.  (If you'd like to purchase the ebook of Truth in the Tinsel, CLICK HERE. )

Do you have a favorite Advent tradition or devotional?  We'd love to hear about it below!
Please follow and like us: