We've been spending quite a bit of time this month looking at newer picture books–many of them published in 2013. But today we're taking a look back to some favorite Retro Reads (published before 2000).*
*You might think of retro reads as the books you could check out back when you used a card catalog!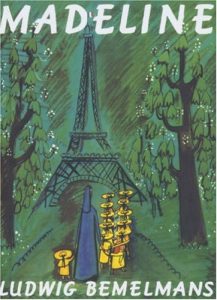 The books below are in no particular order and many will be recognizable to you. The best way to learn about picture books is to read them! These books have delighted children for generations–and still delight them. These authors and illustrators below have many great books to their name; if your library doesn't have the particular one listed, check out another. See below the list for a printable list.
Where the Wild Things Are by Maurice Sendak
Ox-Cart Man by Barbara Cooney
George and Martha (series) by James Marshall
Little Tim and the Brave Sea Captain by Edward Ardizzone
Fortunately by Remy Charlip
Bedtime for Frances by Russell Hoban
Rosie's Walk by Pat Hutchins
Caps for Sale by Esphyr Slobodkina
The Gingerbread Boy by Paul Galdone (LOTS of folktales)
Miss Nelson is Missing! by Harry Allard
The Little House and Mike Mulligan and His Steam Shovel by Virginia Lee Burton
The One and Only Shrek and Yellow and Pink by William Steig
Little Bear (series) by Else Holmelund Minarik
Can I Bring a Friend? by Beatrice Shenk de Regniers
Heckedy Peg and The Napping House by Audrey and Don Wood
Bartholomew and the Oobleck by Dr. Seuss
Harold and the Purple Crayon by Crockett Johnson
Little Nutshell Library by Maurice Sendak
Make Way for Ducklings by Robert McCloskey
Cloudy with a Chance of Meatballs by Judi Barrett
Papa Small books by Lois Lenski
Alexander and the Terrible, Horrible, No Good, Very Bad Day by Judith Viorst
Chrysanthemum by Kevin Henkes
Four Frogs in a Box by Mercer Mayer (also done separately as A Boy, A Dog, and a Frog and others)
Madeline by Ludwig Bemelmans
Printable: RedeemedReader Picture Book Retro Reads
 We could make this list much longer, but now it's your turn–what did we miss?
What are some of YOUR longtime favorites?
Support our writers and help keep Redeemed Reader ad-free.