Little White Duck: A Childhood in China by Na Liu, Illustrated by Andres Vera Martinez.  Graphic Universe TM, 2013.  96 pgs.  Grades 4-7.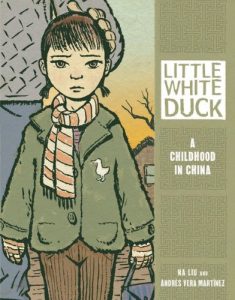 When I found this at my local library, I was so excited I told the children's librarian all about it.  "Can you believe it?  This is a graphic novel for kids about Maoist China.  Autobiographical.  The author is drawing on her childhood during the 70s, and just look at the fantastic art!"
The combo of graphic artist husband and authentic Chinese author seemed very appealing.  The illustrator is obviously talented, and his style has the unique quality of being both childlike and serious–it's a book that obviously takes kids seriously without treating them like adults.  The people are expressively and creatively drawn, while the dour, pale palate creates a thoughtful mood.  It's no wonder then that Martinez has worked with Simon and Schuster, Scholastic, the New Your Times, etc.  Just browsing through, I didn't see any horrifying bits–no graphic presentations of firing squads, though it looked like a book that wouldn't present life in China as all roses and buttercups.
The reading level is not really that high either, a plus for our family.  My first grader read it after we got it home.
"How did you like it?" I asked.
"Well….it was little sad," she replied.
I had meant to read it before she did, but she beat me to the punch.  When I finally picked it up myself and read it through, I thought her analysis was quite perceptive.  It was a very sad, even depressing book.  For one reason, there doesn't seem to be much of a unifying story.  There is no moral learned or relationship developed.  The story of this young girl who experiences life in communist China, from the rules allowing only one child from her family to attend school to being manhandled by poor children who ruin her coat, there simply isn't much to hope for or enjoy.  By the time I closed the book, I was very disappointed that a book so beautiful and promising would turn out to be so unenlightening.
Worldview/Moral Value: 2.5 (out of 5)
Literary/Artistic Value: 4 (out of 5)
_________________________
Laura's Children: the Hidden Story of a Chinese Orphanage by Becky Cerling Powers.  Canaan Home Communications, 2010.  390 pgs.  Ages 12 and up.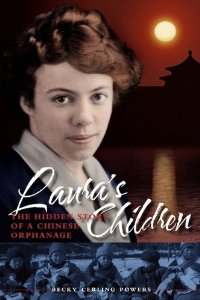 While this book is intended for adults, I read snippets of the book to my then kindergartner and preschooler, to some good result.  Laura's life is one of extreme devotion, way before there were any bracelets, books, or bumper stickers urging "radical" Christianity.  She went to China with to be a missionary nurse with a large missionary organization.  But once she arrived, she felt the call to leave the safe walls of the mission and go live like the people she was serving.  With no budget or financial backers, she set out into the Chinese countryside, and God met her there.  So did hundreds of abandoned babies, who came through her home for safety and help during her life of service.
This book also doesn't fall into the trap of presenting an idealized life for missionaries and the poor in China.  I skipped much of the second half of the book with my kids, because it dealt with her abusive Chinese husband and her heartbreaking struggles with him and the children.  I also really appreciated reading about the communist take over from Laura's perspective.  She and other missionaries struggled to be honest about their work while also protecting the children under their care from those who wanted to send them to the state grist mill, er, orphanage.  Overall, the writing is quite adequate, the life presented is truly honorable, and I found it a story that has stuck with me.
Worldview/Moral Value: 4.5 (out of 5)
Literary/Artistic Value: 3.75
DO YOU HAVE A FAVORITE BOOK ABOUT CHINA OR CHINESE MISSIONARIES?  WE'D LOVE TO HEAR ABOUT IT!
For more books about China, don't forget to check out Betsy's review of Where the Mountain Meets the Moon, a retelling of a Chinese folktale.  And for more Asian studies, see our Japanese book reviews and list of resources for studying Japan.
Stuck at home? Enjoy our FREE Christian read-along adventure for all ages with lots of book ideas, discussion questions, and more!
Reading Ahead for You
Reviews and Resources Weekly in Your Inbox