***To read the next post in this series, see our Summer Reading Challenge, Week 1: Around the World by Matt Phelan.***
Summer Reading Challenge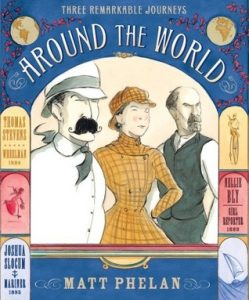 June has arrived, and so has our Summer Reading Challenge! We hope you're ready for a global literary adventure this summer. It's not too late to join us in the read along (just too late to win that initial prize). We're beginning this week, but the first book is a graphic novel and is a fairly quick read: Around the World by Matt Phelan. If you're just deciding to join us, you still have plenty of time!
Summer Reading Alternate Titles
As promised, we have a coordinating book list of more than 100 titles for you. Remember, to participate in the challenge, a child simply has to read 5 titles this summer. We will be emphasizing the 7 titles we've chosen as read alongs, but your child is welcome to "swap out" a title from the big list for one of the "official" titles if he or she prefers. This is especially helpful for those who are reading on a different reading level than the challenge titles or who have already read one or more of the challenge titles. You may also have avid readers in your household who need more reading ideas!
There are books for preschool through middle grades on the list (but the list does skew heavily towards independent readers). Loose reading level ranges are given, but most books are family friendly enough that an audio version in the car will not be too "mature" (i.e. scary, etc.) for younger listeners (unless noted). Motivation is a strong factor in reading, so don't get too hung up on the reading level guides. This list doesn't include every great adventure story because we had to draw the line somewhere, but keep those comments coming about your favorite titles! We've tried to steer away from titles typically read in school–after all, this is SUMMER!
The lists are available in two formats: a quick and dirty, titles-only format and a longer, annotated format which gives a brief plot description. You will find a category related to each of our main titles (regionally and/or stylistically) plus three additional categories. Of particular note for you nonfiction lovers is the last category: Nonfiction Adventure Tools! The second-to-last category is a list of adventurous series which are often a big hit during summer break for avid readers.
The Full, Annotated 2013 Redeemed Reader Summer Reading Book List
The Quick and Dirty 2013 Redeemed Reader Summer Reading Book List
See also the Redeemed Reader Pinterest Boards: one board for each category so you can get a quick glance at book covers (this is still very much a work in progress!)
Let us know in the comments if you see a favorite title on the list and want to recommend it to others! I know I'll be reading some new-to-me books (or new-to-my-kids) this summer and can't wait: The Lightning Thief (Percy Jackson and the Olympians, Book 1) by Rick Riordan, Mr. Popper's Penguins, and Nate Saint: Operation Auca (Torch Bearers). And I can't wait to introduce everyone to Janie's book The Middle of Somewhere next week–it's a lot of fun!
More than 75 books for children and teens, all about islands, oceans, and more. Bonus: get a free hand-drawn reading tracker!
Reading Ahead for You
Reviews and Resources Weekly in Your Inbox