***The Book Giveaway below is over (click here to see who won), but the reading adventure is just beginning!  Feel free to enter your name in the comments to receive the read along newsletter.
We have also added a section at the beginning where we will link to all the Summer Reading Challenge posts.  Hopefully it will make them easier to find!***
Looking for a fun and educational way to spice up the summer for your family?  Here's an idea: how about our summer reading challenge?  We actually have two summer reading tracks–one we'll announce soon for teens and adults (stay tuned for that), pharm and the one we're announcing today–a family-based challenge!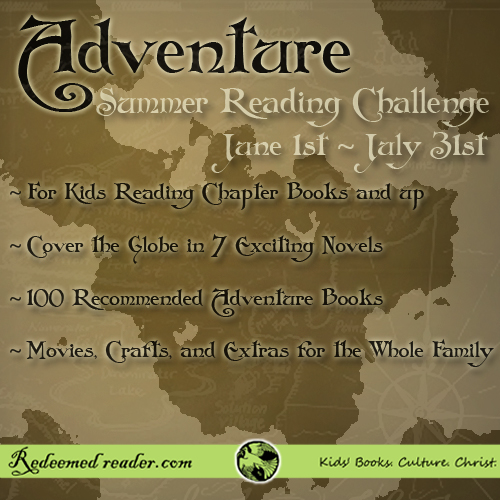 Who, What, and When?
Who: The primary audience is kids who can read chapter books through middle grade level books.  But we'll include book suggestions, movies, crafts, etc. to involve the entire family.
When: June 3-July 31, 2013
What: A summer reading challenge!  Over the course of eight weeks, we'll cover the globe through novels of intrigue and adventure.  We'll include discussion questions from a Christian worldview, as well as insights to help your kids get the most from the books.  In addition, each week we'll invite food and craft bloggers, authors, missionaries, etc. to help us on our journey.  It will be an exciting journey to help you and your kids see that "The earth is the Lord's and all it contains!" (Psalm 24)
The Book Schedule
We know you're busy.  And some of you will have already read a few of our picks.  So, we're keeping things simple but flexible: your kids only need to read 5 of the 7 novels to complete our challenge.  Plus, we'll unveil our 100 Great Adventure Books list on June 3 filled with alternates.   Some of these stories may be found online as audiobooks which would make them accessible to younger kids as well.  But we hope most of you will find this an enticing list…and join us!
June 3-7: Around the World by Matt Phelan (Graphic novel, 240 pgs.)
June 10-14: The Middle of Somewhere by (our own) J.B. Cheaney(U.S. travel novel, 224 pgs.)
June 17-21: Mr. Popper's Penguins by Richard and Florence Atwater (U.S. & Antarctic, animal/humor classic, 160 pgs.)
June 24-28: Nate Saint: Operation Auca (Torch Bearers) by Nancy Drummund (South America, missionary story, 170 pgs.)
July 1-5: off
July 8- 12: The Light Princess (Sunburst Book) by George MacDonald, illustrated by Maurice Sendak (British fantasy classic, 120 pgs.)  Be forewarned that this version has "naked babies" that many librarians and parents have taken a marker to over the years.  I'm not above doing the same for my kids, but another version will work fine if your bothered by the idea.
July 15-19: The Lightning Thief (Percy Jackson and the Olympians, Book 1) by Rick Riordan (Roman gods, 400 pgs.)  *Note: This is also available in graphic novel form.
July 22-26: Where the Mountain Meets the Moon by Grace Lin (China, contemporary award-winner, 304 pgs.)
Get the Books at a Discount!
We put together a discounted package of the books with an independent Christian bookstore here in Nashville, Logos Bookstore.  (Their website is www.goodtheology.com.)  Except for one book, they were able to beat Amazon's prices and offer the entire summer reading package for $54.97.  To order, call them directly at 1-800-925-6467.  This price is for a limited time, so don't wait too long!
Contests, Prizes and More
You know we have to have prizes, right?!  First, we're giving away the entire package of books next week!  To sign up for the Summer Reading Challenge newsletter, leave a note in the comments below by midnight Tuesday, May 28th, and you'll be automatically entered to win the books!
After that, we'll be running two writing contests: a storytelling contest for your little ones and a more challenging writing contest for the older kids.  Look for details about that the first two weeks of June.
And what will your kids get if they complete the challenge?  Besides the feeling of accomplishment, a love of reading, and a whetted appetite for lands unknown….well, each kid who completes the reading challenge will be entered in our final drawing for a $25 Amazon gift certificate.  Not a bad way to cap off the summer!  You can check out this site, biblionasium, to help your kids keep track of their reading if you're interested.
Special Guest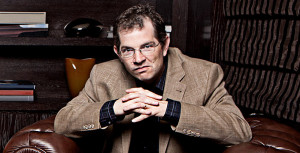 Most weeks we'll host a special guest to help us keep our energy up.  To kick us off, we've invited my new favorite comedian, John Branyan, who also happens to have created one of the funniest (and yet totally educational!) picture books I've seen: a retelling of The Three Little Pigs as if by Shakespeare.  Check him out here!   He'll tell us how he came to be such a literary comedian, and give some tips on how your kids can write hilarious stories, too.
While you're leaving a comment below to sign up for the Summer Reading, we'd love to know what you'd like to see on our 100 Great Adventure Books list?  Any adventure books your kids wouldn't want to do without?  Click over to our Summer Reading Challenge tab to see the books we've already covered in our journey.

Support our writers and help keep Redeemed Reader ad-free.