Suzanne Collins: The Hunger Games, Scholastic, 2008, 374 pages.  Catching Fire, Scholastic, 2009, 391 pages.  Mockingjay,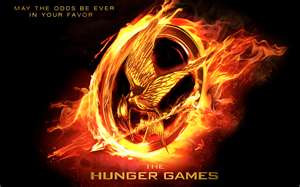 2010, 387 pages.  Age/interest level: 14-up.
READER ADVISORY: This review contains a major spoiler about the last volume in the series–warning ahead!
At some time in the distant future, our great and free society has collapsed.  The reasons are obscure: a series of natural disasters, severe draughts, famine, and devastating wars over limited resources.  The result is Panem: 13 districts controlled by The Capitol, which is located somewhere in the Rockies.
Seventy-four years before our story begins, the districts staged an uprising which was brutally put down.  As continued punishment and warning, the Capitol stages its annual "Hunger Games," in which 24 contestants–one boy and one girl from each district–fight to the death in a controlled environment.  The games are more than punishment; they are also entertainment.  Think of it as the ultimate reality show, broadcast through all districts with a thriving industry built around packaging and betting on the contestants.
When Katniss Everdeen's little sister is chosen as the girl tribute from District 12, Katniss unhesitatingly volunteers to takes her place.  The male tribute is Peeta Mellark, the baker's son, with whom she's barely exchanged a word.  Amid pomp and circumstance they travel by high-speed rail to the Capitol where they are "styled" and celebrated and fattened for slaughter.  But what Katniss thinks will be a fairly straightforward ordeal of kill-or-be-killed turns out to be much more complex than that.
As the protagonist, Katniss has to win, but her path to victory is full of riveting twists and turns.  Her relationship to Peeta is the emotional engine of the story, thrown into high gear when he claims on national TV to be in love with her.  Is he, or is that a ploy to win sponsors?  Is their mentor Haymitch Abernathy just a shameless drunk, or is he playing his own game?  The contestants make strategic alliances in the arena, which of course will break down—but when?  The clash of reality-show artifice and sudden bloody death is jarring, and keeps the reader guessing all the way to the end.  The pacing is flawless: each volume of the series consists of three parts divided into nine chapters each, with just enough down time to catch your breath before running head-on into the next crisis. The balance between character and action is near-perfect: just enough character development to spur the plot, which in turn shapes the characters.  It's no wonder the three volumes of the series were the first, second, and third top-sellers last year, across all genres.
When the story releases its grip on you long enough to let you think about it, certain elements don't add up.  For instance, District 12 is the coal-mining center: Appalachia.  An area that now comprises all or part of five states and millions of square miles but appears to be reduced to one small town, population 8000.  Wouldn't Panem need a slightly larger mining operation to power its other districts, much more the Capitol itself, where residents live in luxury reminiscent of declining Rome?  As in that ancient empire, the elites maintain control with skimpy bread and the annual circus, which puts the regions against each other.  But the games are so brutal and capricious, with the deck shamelessly stacked, that resentment should have overcome rivalry long ago.  And a few (not many) plot twists seem dictated more by the need for something to happen at the end of the chapter than by the demands of the story itself.
But two things struck me on my second reading.  For one, there is no hint of any religious consciousness.  Not even the occasional swear word.  This seems unusual for dystopian fiction, where ultimate values take center stage, if only to clarify that God has failed.  In this world, there's no church, no prayer, no spirit, no afterlife—not even remnants of half-baked paganism.  It's not anti-religious; it simply imagines a future in which religion does not exist.
This may be more true to the author's worldview than human nature.  Humanity seems to have a built-in spiritual dimension that has outlasted all predictions of its demise.  The Enlightenment couldn't reason it away, Darwin could not dislodge it, Mao and Stalin could not stamp it out—in fact, it flourishes best when times are worst.  The decadence of the Capitol bears some resemblance to the practical atheism of contemporary culture, where "spirituality" is a fashion statement.  But religion is absent even in the destitute provinces of Panem, where it's needed most.
Instead, the state is God.  When a contestant dies in the arena, a hovercraft appears and lifts the body as though by a divine hand.  Later, his or her picture appears in the sky for a fleeting moment before darkness returns, and the soul—if there is such a thing—is consigned to oblivion.  The Capitol assumes powers of manipulation and coercion that would have made Mao and Stalin swoon with envy: it can turn water to blood, dictate the weather in the Games arena, spy on multitudes through its omnipresent cameras, invade minds and alter memories.  Further, unlike most totalitarian systems, the Capitol does all this with no pretense at common good.  The games are openly billed as punishment and coercion.  This god is all wrath.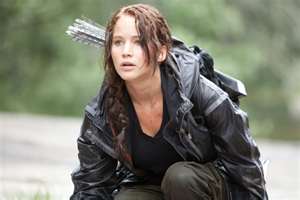 And yet (striking factor #2), this world is intensely moral, at least for those whose ethical radar has not been disconnected.  Katniss is always doubting her motives, upbraiding herself for insincerity or cowardice or selfishness.  Her north star is her family, particularly her sister Primrose.  Peeta's moral compass is within: "I don't want them to change me in [the arena].  Turn me into some kind of monster that I'm not."  Peeta has an integrity that Katniss doesn't; he's sure of something good and true, and doesn't seem as violently self-doubting.  As long as he stays out the hands of the omnipotent state.
SPOILER PARAGRAPH!
In Mockingjay, the last volume of the series, all illusions fall.  The Capitol will fall as well: that's the good news.  The bad news is that the revolution reveals itself to be almost as brutal as the regime it set out to depose, and Katniss, the invaluable symbol of revolt, can't wash the blood from her own hands.  It's better than the old days, but with no standard to determine what "better" really means, all we have to look forward to is another slide into darkness.
Kids looking for answers will not find them here–and that's not necessarily bad.  The purpose of fiction, I've heard, is not to provide answers but to ask the right questions.  That's a task that the Hunger Games series accomplishes only in part.  There's a frenzy of questions: What's real? What's right? What's good?  These are all legitimate, yet the way they are asked throws doubt on the very premise: Is there such a thing as real, right, or good?
In many interviews, Suzanne Collins has stated the theme of the series in rather unsatisfying terms: it's anti-war, anti-manipulation, anti-violence.  Some conservative reviewers see it as anti-big-government as well.  I think we can all agree that war, violence, and totalitarianism are bad things.  But the real war is within.  Katniss Everdeen vindicates, even personifies the scriptural proposition that "There is none righteous; no, not one."  "We're fickle, stupid beings with poor memories and a great gift for self-destruction," says a character in Mockingjay.  So, is there any hope?
Not really.  While it's easy to say what The Hunger Games is against, what it's for is not so obvious.  "I don't want them to . . . turn me into some kind of monster that I'm not," vows Peeta, while Katniss worries that the games will turn her into the monster she really is.  But with no intuition or doctrine of anything that transcends their immediate world, one monster is ultimately as good as another.
The immense popularity of these books is not only wide but deep; there's obviously more to their appeal than a heart-pounding plot.  Might it be that, even after decades of self-esteem training, young readers know on a subconscious level that they're not that good?  Do they only admire Katniss's strength and determination, or do they also identify with her struggle?
The main question Christian parents are asking is, Should I let my kids read The Hunger Games?  I would give a qualified Yes.  The violence can be disturbing to sensitive readers, but the books are remarkably free of bad language and sex.  (Even implausibly so—in Catching Fire, Peeta and Katniss sleep together several times but don't "do anything."  Um . . . I would advise against that, kids.)  Christian readers can put the books down with a sense of relief that there is a remedy for our violent condition, but to fully accepting the story's premises, without hope for anything better, could only lead to despair.  I wouldn't give it to a teen who was prone to depression.  Unless I could be there when she finally turns last page, and say, "So now you know the problem.  Do you want to hear the solution?"
Worldview/moral value: 3.5
Literary value: 4
A broader look at the dystopia fad in YA literature is available in a .pdf download here.  And here's my review of a dystopian series I think is a lot better though not near as popular.  Plus, check back soon for more Hunger Games coverage.  We'll be discussing the story with young adults and engaging their insights over the next two weeks.
Please follow and like us: