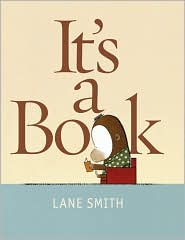 It's a Book by Lane Smith.  Roaring Brook Press, 2010.  32 pages.
Reading Level: Picture book, ages 4-8
Recommended for: ages 10-12 and up
Bottom Line: This picture book contrasting the printed page to texting may appeal to the 4-8 reading level, but the point is probably above their heads.
It's a Book, by Lane Smith (Roaring Brook Press, 2010), is marketed as a children's picture book (age level 6 to 10), but it's really a battle-cry against the post-literacy represented by texting, tweeting, and other forms of instant electronic communication. The "story" consists of a donkey querying his friend the ape on that foreign object the ape is holding: seems to be sheets of paper clamped between two covers. "Can you blog it?" "Can you tweet it?" Finally the donkey takes the object to have a look for himself. He scans a few paragraphs from Treasure Island: "'Arrrrr,' nodded Long John Silver, 'we're in agreement then?' He unshealthed his broad cutlass laughing a maniacal laugh, 'Ha! Ha! Ha!' . . ."
This is all too much for the donkey: "Too many letters. I'll fix it." He translates the passage as
LJS: rrr! K? lol!
Jim: 🙁 ! 🙂
Readers may judge for themselves as to which version has the greater emotional impact. It's doubtful whether the preschooler who lugs this book over to you and plops it on your lap will understand the context, and the last line, spoken by a mouse who's been a silent observer all this time, is inappropriate for little ones. But as a literary critique, It's a Book make its point, however obvious.
Cautions: Language ("Jackass" is the final word)
Overall Rating: 3 (out of 5)
Worldview/moral value: 3
Artistic value: 4
Categories: Picture Books, Humor, Reading
Support our writers and help keep Redeemed Reader ad-free.